| | |
| --- | --- |
| Publisher | Goodgame Studios |
| Platforms | Android 4.1 and up  |
| Price | Free |
| Size | 58 MB |
| Latest Version | 2.12.3322 |
The first time I played Big Farm is through its original Browser version. Big Farm by GoodGameStudios came out in 2012 and has become a huge hit. It now has over 200 thousand players worldwide. Interestingly, those who enjoy the game can finally play Big Farm using their mobile devices. Big Farm: Mobile Harvest is one of the GoodGame Studio games to ever hit the mobile platform. Others include Big Company Skytopia and their popular Empire game. If you're familiar with the game, feel free to download Big Farm Mobile Harvest and experience an epic farming adventure once more.
Interestingly, Big Farm: Mobile Harvest captures everything we love from its browser and PC counterparts. It shares the same graphics, the same goal and the same mechanics. Basically the game follows a story of a guy who inherits a huge farm from his late Uncle George. Unfortunately, the farm is not really in good shape. Using your skills and with the help of your family, friends and neighbors, you must bring your farm back to its former glory. Go ahead and download Big Farm Mobile Harvest to prove that you have what it takes to become a farming tycoon.
The Gameplay
Big Farm: Mobile Harvest works the same way with your typical farming game. The goal is to grow your farm by harvesting crops and raising animals. It's clear that you need to put your farm back to its good shape or better yet make it more successful. Unlike popular farming games like Hayday and Farmville, Big Farm features less cartoonish visuals. This gives you a more series and realistic feels. The mechanics are generally simple and in the entire course of the game, all you do is tap objects on screen to complete the tasks.
The core gameplay of Big Farm: Mobile Harvest is the quest system. In order to advance on the game, players must complete a series of quests. If you download Big Farm Mobile Harvest, you will notice some notable similarities with Farmville and other similar games. It quest board features a series of tasks you should do and earn rewards in return. The rewards are mostly in form of Experience (stars) and other resources like Money and more.
Farming
Of course, the first thing you'll expect when you download Big Farm Mobile Harvest is the farming itself. The game welcomes you with a large farm but there's really nothing much you can do on the beginning. It features a single plot, a house, chicken coop, a barn and a windmill. Each has their own function. The farming system for this game is quite different and more simplified. Unlike games like Hay Day where you need a plot for each individual seed, this game doesn't require such. You plant seeds on a plot by bulk. Simply click the plot and choose the seed and that's it! You can only plant one type of seed per plot.
Each crop will vary in terms of their harvest time. Some crops like Corn can be harvested in just few seconds while other takes longer time. You can, however, expedite or skip the process by paying premium currency (Gold coins). Same thing goes with the animals. The quests will usually ask you to upgrade your buildings and other farming tasks. Luckily, there are time limits for these tasks so you don't have to pressure yourself. The plants who were left unharvest will not wither either.
Enter Market and Increase Population
Aside from the main quests, other things you can explore when you download Big Farm Mobile Harvest are the Market and other nearby locations. Market is another way to generate more revenue. Here, you accept orders from different customers. After delivering their requests, you will earn rewards which are mostly in form of Exp and Money. Eventually, you'll earn access to other locations like Café, Water Tower, Nursery, Dog Kennel, Gold Mine and many others.
As you reach higher levels, the demands will also increase. This requires you to expand your farm to cater more items and to accommodate more buildings. To top it all, the more buildings you have on your farm, the more labor forces you will need. In order to get more helpers, you need to increase your population. You can do such by building residential houses within your farm.
Verdict
If you are looking for a simple yet addictive farming game, I do not see any reason why should not download Big Farm Mobile Harvest! It is indeed a simple farming game with tons of features to explore which provides the game a remarkable longevity. With so many farming games available today, is Big Farm Mobile Harvest still worth the download? I personally say yes. It offers a different kind of farming game experience and is absolutely worth playing.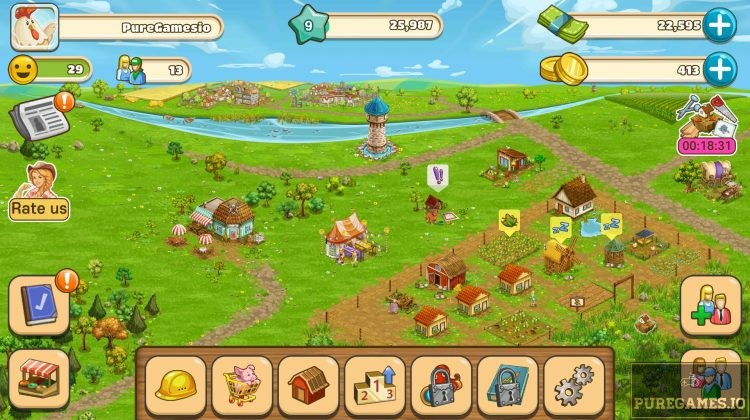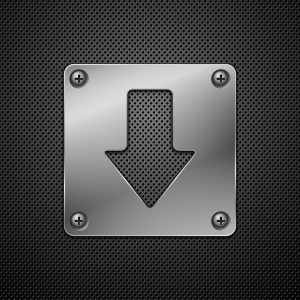 Download Big Farm: Mobile Harvest APK for Android/iOS
Select a file to download:
Download Big Farm: Mobile Harvest v0.6.180 APK