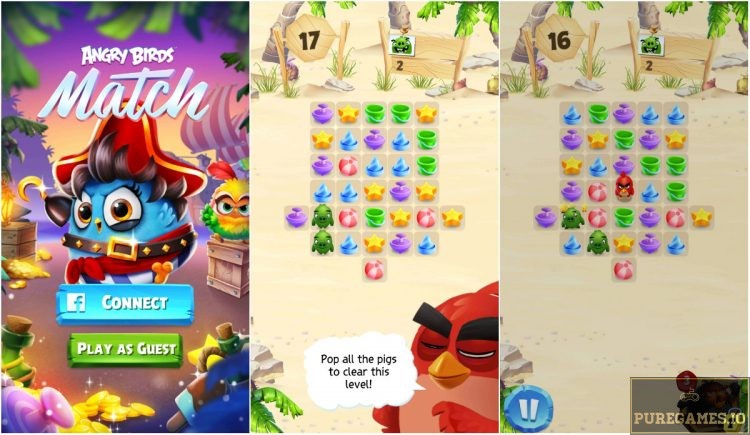 Here comes another Angry Birds game! Angry Birds Match is one of the newest additions to Rovio's successful franchise. However, unlike the traditional gameplay, Angry Birds Match will feature something different. As what the title of the game suggests, this one is a match 3 puzzle which involves Hatchlings and the original pluck of birds. The goal is simple, clear all the levels by matching three or more identical object on the grid. Feel free to download Angry Birds Match and play Angry Birds like you've never been before!
Rovio Entertainment made a lot of spin off games with their Angry Bird franchise. Most of them however shares the same gameplay but in an entirely different atmosphere. Interestingly, adapting tile matching puzzles is not new with Rovio. Angry Birds Blast for instance is also a tile matching game while Angry Bird Pop is a bubble shooter. Angry Bird Match is a Match 3 puzzle similar to Rovio's Fruit Nibblers, King's Candy Crush Saga and many more. If you are into such challenge, download Angry Birds Match and see how far you can go.
The Gameplay
The mechanics for this game are very simple and easily manageable. If you know how Candy Crush Saga or even Playrix's Gardenscapes work, then this game is an easy-peasy. Like the aforementioned games, the objectives in the game will vary per level. Some will ask you to pop piggies while others will require you to collect certain number of objects. Regardless of the main objective, the game requires you to match 3 or more identical objects to clear them out from the grid.
If you download Angry Birds Match, you must expect to deal with a dynamically changing grid. The process of matching is very simple. Just swipe an object to an adjacent grid to match them. In Candy Crush Saga, if you were able to match 4 or more identical tiles, you will be able to activate power ups. In Angry Bird Match, it does the same thing but in a very Angry Bird fashion!
The Original Pluck is Here
Angry Birds will never be the  same without the original pluck of birds. Interestingly, if you download Angry Birds Match, you'll be able to see them all but in a very interesting way. If you match 4 identical tiles, it will summon Red Bird which has the ability to clear the entire row or column in front of him. Five perpendicular match activates Chuck which has the ability to clear an entire row and column together. Matching five straight objects (horizontal or vertical) summons Bomb which has the ability to clear three rows or column in front of him.
The bad piggies are also present in this game. They will not appear with towers but they are often randomly placed on the grid. To clear them all, you must create  a match beside them. This should be done twice; the first one will make them dizzy and the second one knocks them out. Matilda is not playable in this game but you can still see her every time you try to open bonus chest. The Blues, on the other hand is not part of the puzzle but joins the Hatchlings instead.
Throw Parties with Hatchlings
One thing you will love if you download Angry Birds Match is the introduction of the Hatchlings. The Hatchlings are the center characters of Angry Bird Match. They are not capable of fighting just like the Red's Flock but they can satisfy you with their overwhelming cuteness. In between each level, the game prompts you to a special portion where you throw parties for Hatchlings. Players will earn experience after completing each level which allows you to unlock new Hatchling.
After unlocking a Hatchling, you can now invite them in the party and you can also customize their outfits. The parties have different themes and each Hatchling has their own outfit collection that you can either puchase through coins or unlock through chest. Every time you unlock a hatchling, they will offer you a key to unlock a chest and earn rewards in return. You can also unlock a chest through gems (premium currency).
Verdict
Angry Birds Match is way different from a traditional Angry Birds game but you will surely appreciate the twist they made for this game. The game is also a visual delight which is accompanied with a catchy music to set the mood. If you love Angry Birds, this game is definitely an interesting addition to your mobile. After all, who can resist to the overwhelming cuteness of these adorable Hatchlings? Go ahead and download Angry Birds Match and have fun!
Download Angry Birds Match