| | |
| --- | --- |
| Publisher | Tiny Titan Studios |
| Platforms | Android 4.1+ |
| Price | Free |
| Size | 59 MB |
| Latest Version | 1.3.1 |
Do you have what it takes to embark on a new adventure and fight your way to the very end against an evil lord? Download Dash Quest Heroes and find out.
Overview
Awake hero! Evil has fallen upon your world, and it's up to you to fight it. Create your avatar, choosing only three categories: skin color, hairstyle and hair color. Then you're off to playing adventures, beating dungeons and notorious bosses. Help your Dash Town grow bigger and stronger and compete on the leaderboards. Loot, forge, upgrade and equip new legendary items and weapons, trinkets and unlock new magic abilities. All of this is done as a preparation for the final encounter with the fiendish Zaru. You can start as an Adventurer, but as you level that character, you'll be able to unlock new classes: Warrior (unlocks at when you reach level twenty with your Adventurer), Mage (unlocks with twentieth level Warrior) and Rogue (unlocks after you level up a Mage to level twenty).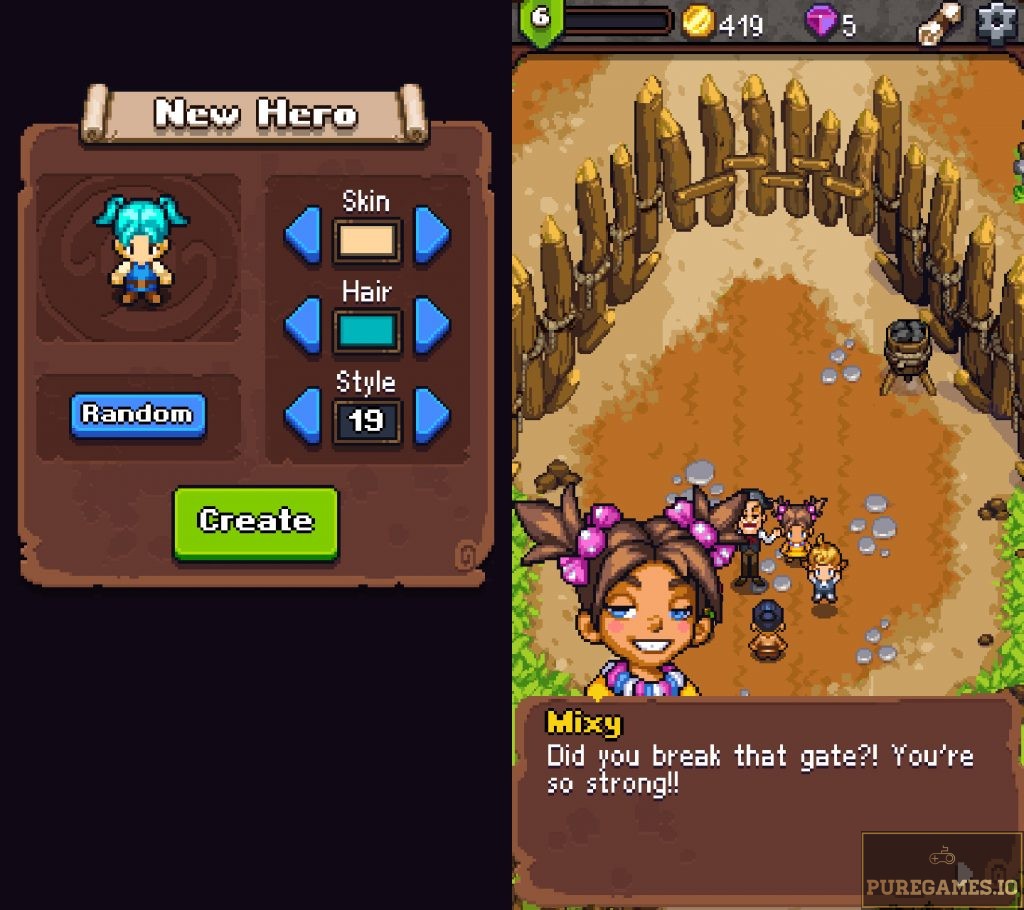 Gameplay
You'll be surprised to see the combination of genres this game uses. It does start off like a typical old school top-down RPG. Then you start an adventure and it becomes a dash runner. You have to encounter enemies rushing towards you, and defeat them by simply tapping or swiping your screen to block. You can hold a bit longer to charge a stronger hit. Keep an eye on the sides of the road you're on, in order to pick up valuable collectibles, chests and bonus quest objectives. Also, don't forget to watch out for obstacles and traps on the ground. Sometimes you can run into a shop or a bonus level. This comes in handy if you need a break from runnin' and wavin' with your sword. Other than that, you can explore your Dash Town, talk to your friends, acquire side quests, shop and forge.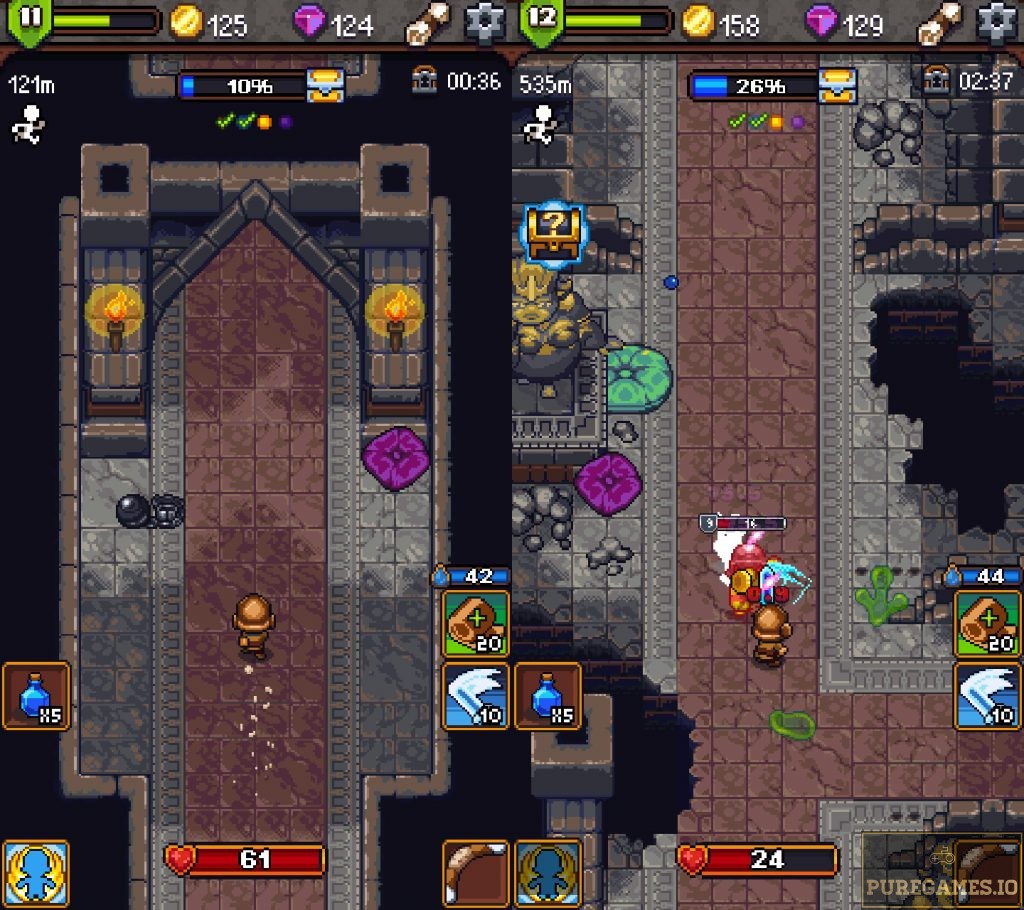 Then there are the boss fights. Those guys have a ridiculous amount of health points and damage, but are not too hard to beat. It just takes pretty long – first boss took me around fifteen minutes to complete, which is a lot for a mobile game. Not to mention that the fights are typical tank and spank, and require little to no movement nor thinking and strategic planning of the player. It all comes down to well-timed attacks and dodges, all done with a simple tap or swipe of the finger! Bosses are, however, designed in that famous phase pattern, but not much changes between the phases, because your movement is limited to three positions, center, left and right! You just have to watch out for some range and special attacks, and after some time all of those become predictable, including the melee ones.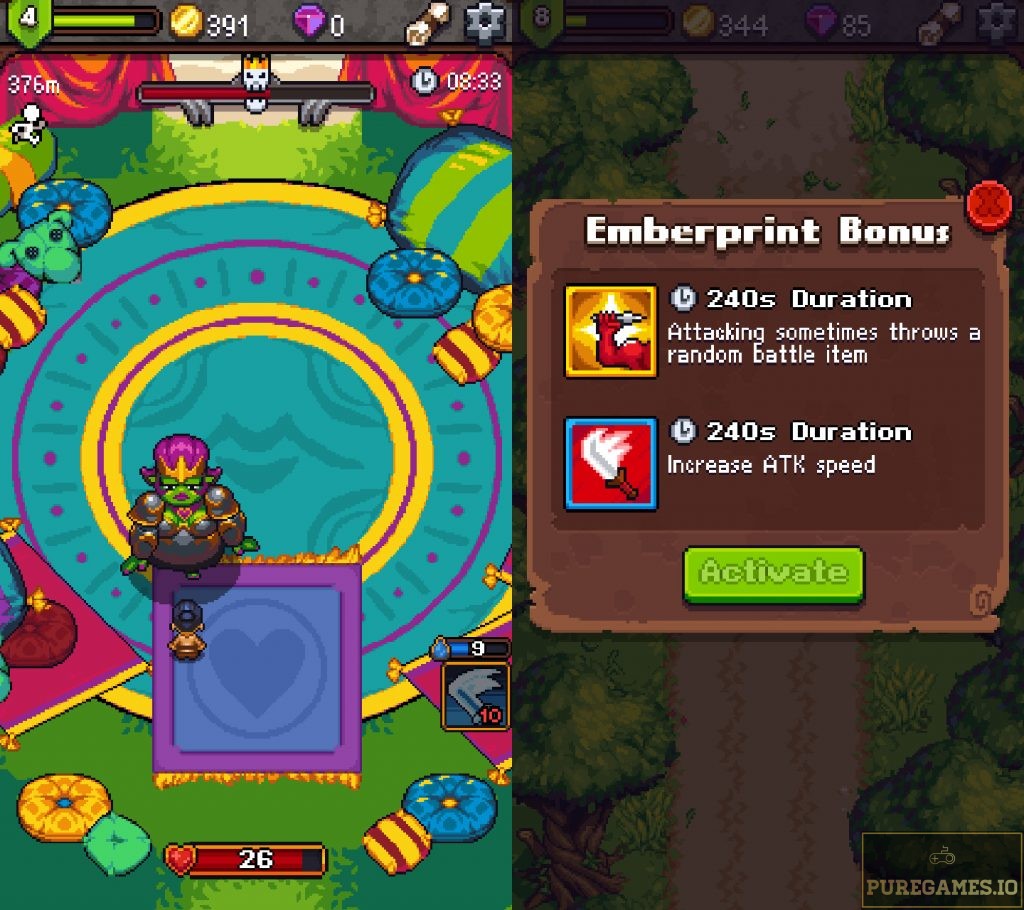 RPG elements
Your hero's main resource are health and ability power. As you level up, by gaining experience, you will be able to increase those, by increasing stats, such as: attack power, damage per second, strength, dexterity, intellect, defense, magic defense, agility, resistance and luck. Yeah, even luck is integrated into your hero stats – imagine that! Well, I guess it's a less fancy name for critical strike chance, we all love and know. The player is given six inventory slots to work with. Those are the melee weapon, chest armor, head armor, jewelry, ranged weapon and potions.
Adventurer class has eight abilities to unlock throughout the game, and these usually include a special attack, or a healing power. Then there is the skill tree, in which you use your skill points to arrange them as you like. Many of them are just an increase of a stat point, but there are specific ones too, like increased damage against goblins. I guess goblins are the most common enemy in this game?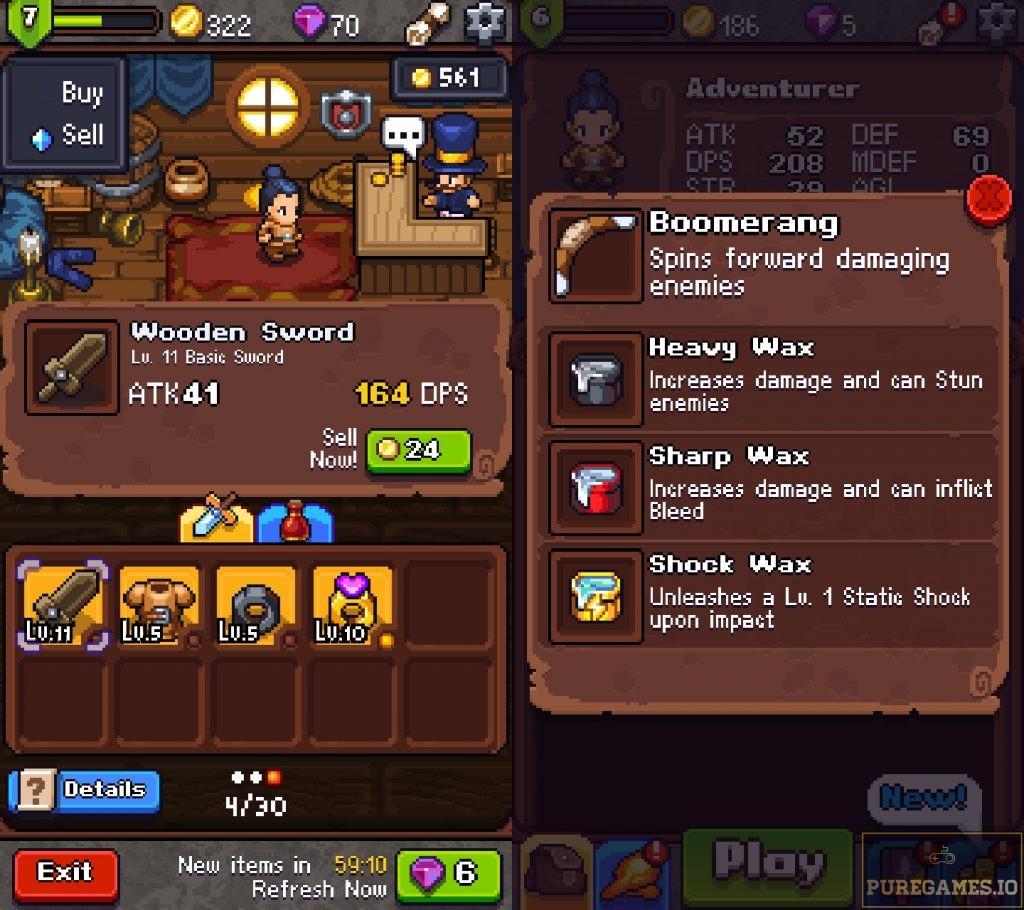 Presentation
The game managed to pull of that retro vibe pretty well. I wouldn't call it 8 bit, but I guess 16 is more appropriate. Models and environment stick out the most. Right when you feel like you've seen it all, this title has a visual surprise for you. It's clear that the developers went with humorous intentions in depicting some of the bosses and enemies (like the Goblin Queen). Too bad that the dialogue seems a bit stale and out of place. The laughs you had while observing the game, suddenly wear off when you start reading that corny text. It feels so cliché and common, not in a good way – like you seen it elsewhere for hundred times. Music and sound effects, thankfully, save the day, boosting up those retro vibes set up by the visuals. It seems like there are a lot of themes inwrought in this title.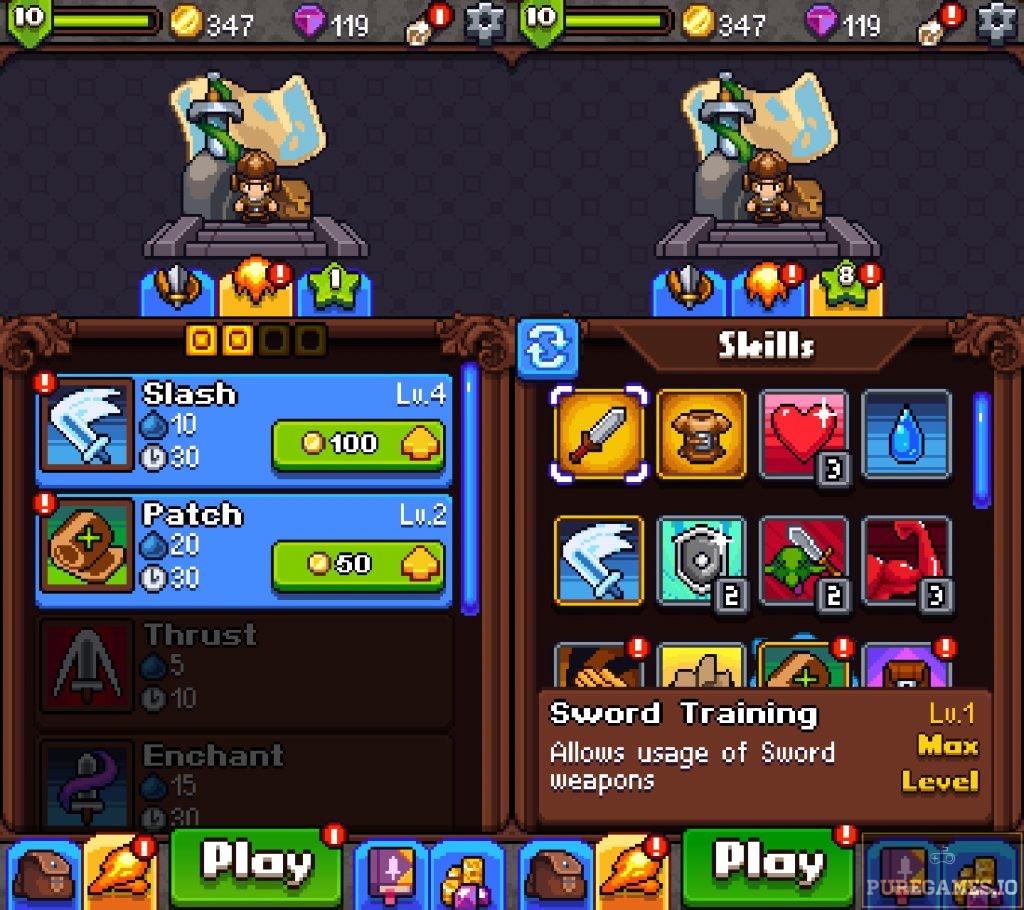 Business model
The game does offer some bonus chests if you watch an ad, and although it's a nice gesture, it's pretty frustrating too. Those pop-up during a run itself, and it's sometimes hard to get right back into the action after the ad. Biggest omission with this model is that they incorporated it into the lives system. If you happen to die, you can simply watch an ad to respawn with full health! So no losing for the player in this one, and that makes it unchallenging whatsoever. Not to mention that ads dominate your screen time, even when you can't benefit from them.
There are two types of currencies in this game: gold and gems. First one is used to buy new items, upgrade old and to upgrade abilities. Gems can be used to respawn (if you don't have patience to watch ads) and to buy gold, or chests, items and power-ups. You earn both by completing levels (gold is even collectible in the level itself) and achievements. Of course, if you want a quick success, you can buy gold and gems in the in-game shop, in which prices range from 1.89$ to 98.78$. Some can be earned by either watching an ad or by liking the Facebook and Twitter official pages of the game.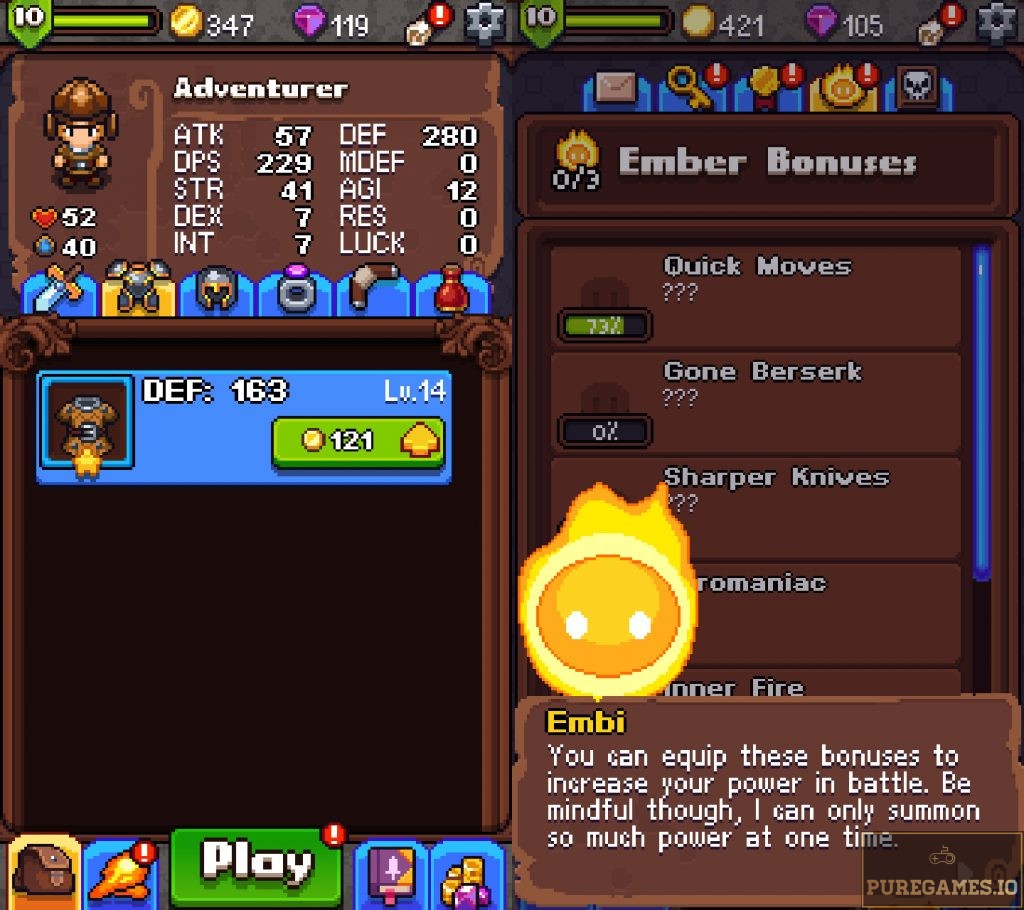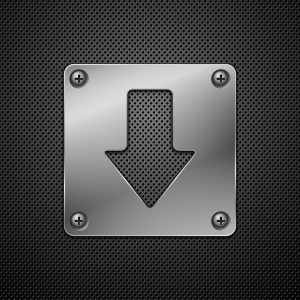 Download Dash Quest Heroes APK for Android/iOS
Select a file to download:
Download Dash Quest Heroes v1.4.0 APK