| | |
| --- | --- |
| Publisher | Voodoo Games |
| Platforms | Android 4.1 and up |
| Price | Free |
| Size | 41 MB |
| Latest Version | 1.2.2 |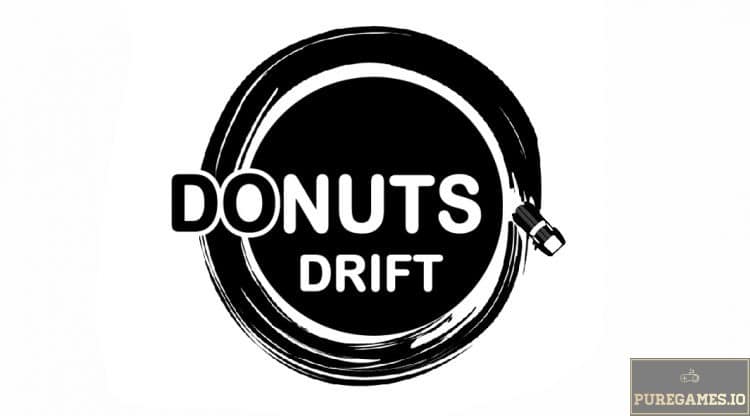 Donuts Drift is a simple yet fun and addictive driving game by Voodoo Games. Unlike the typical racing games that involve hardcore drifting, Donuts Drift is not as complicated as it sounds. It takes you to a simple black and white screen with a series of drift course to surpass. The objectives of the game are very clear, drive through different courses and make as many perfect drifts as possible before you run out of fuel. If you think you have what it takes to become the next Drift King, download Donuts Drift now and see how far you can go.
Despite the game's apparent simplicity, Donuts Drift is surprisingly challenging.  It requires a lot of mastery in order to win the challenge. You might actually find yourself repeating the same course over and over until you make a perfect drift. If you are up for a challenge, you might want to download Donuts Drift by Voodoo and let epic drifting begins!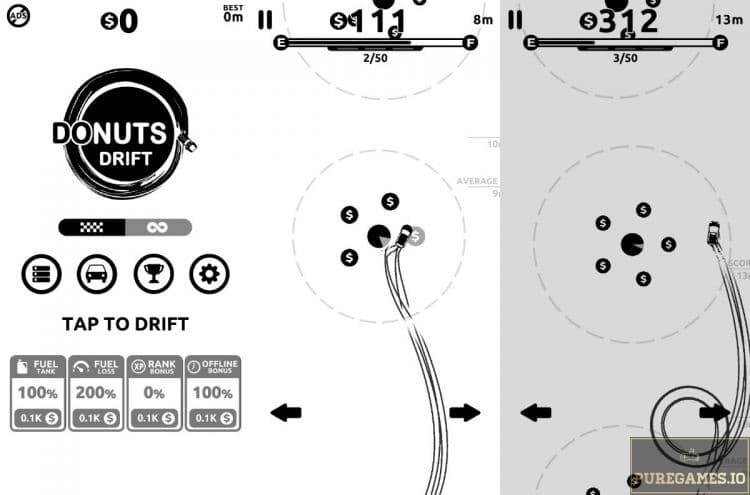 The Gameplay
If you download Donuts Drift, the game welcomes you with a simple interface. The main screen gives you the access to almost everything including the upgrades, the leaderboard, the available vehicles and more. Simply tap the screen to begin the challenge. As soon as the game starts, it prompts you right away to the driving course.
The controls are simple yet very tricky. You can only move the car in a circular motion. You can navigate around the game screen by tapping and holding the left and right arrow buttons. The driving course contains circular areas. The dotted outline indicates the radius or area where drifting should be done. The dark circle on the middle of the outline is an indicator if a perfect or good drift is made. Surrounding the dark circle are the Drift coins you can collect along the way.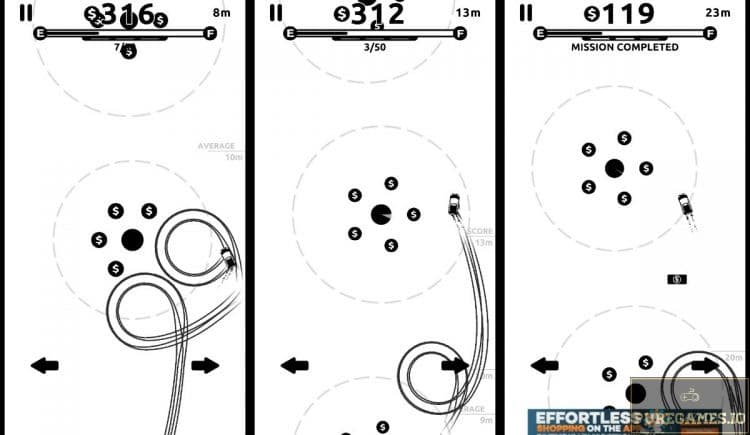 Try and Try until you succeed
Donuts Drift could be a little frustrating! You cannot instantly make a perfect drift and it could take a lot of practice before you can master everything. A Perfect Drift is when you managed to drift around the circle while collecting all the coins in the process. A Good Drift is when you managed to drift around the circle or the given radius.
What makes the game more challenging is the fact that you only have limited fuel to consume. If you ran out of fuel, the game will come to a quick end and you have to start over. Interestingly, you can earn extra fuel by making perfect drifts.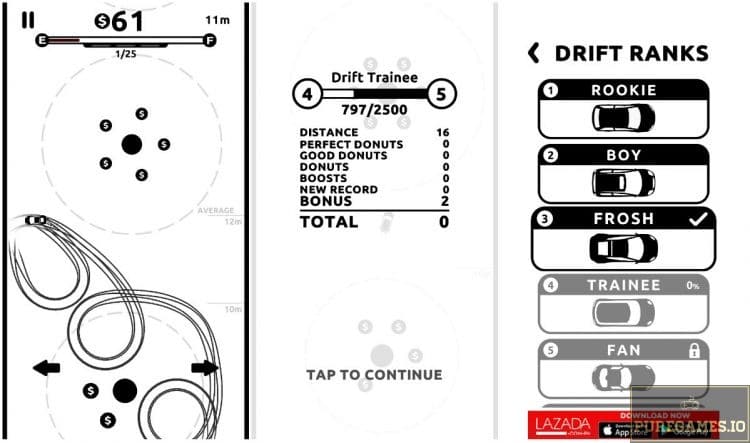 Upgrades and Unlockable Cars
All the Drift Coins that you collected will be accumulated. You can use the coins to buy upgrades. Generally, there are four options you can upgrade; Fuel Tank, Fuel Loss, Rank Bonus and Offline Bonus.  Upgrading Fuel Tank allows your car to stay longer while Fuel Loss allows you to consume less fuel when drifting. Rank Bonus allows you to get bigger rewards while Offline Bonus allows you to earn Drift Coins even the game is not active.
Please take note that in order to earn a new level; you must earn points from each run. The amount of points you can collect depends on the distance you have reached, number of perfect and good donuts and other bonuses. If you reached the target points, you will gain a new level and you can unlock new car.
Annoying Ads and Missing Leaderboard
Every game has downsides. Apparently for Donuts Drifts the developers turned the game into an advertising platform. I understand the fact that this is their way to earn revenue but this game seemingly overdone this part. In fact, the length of the ads is longer than the game itself. A single run for example could last for 10 to 15 seconds and the ads will run for 30 seconds and more. Some of which are unskippable too.
Another element that is missing in this game is the leaderboard system. The game saves your score and your personal best but it doesn't have a leaderboard system. This element along with an Achievement system could make the game even more engaging.
Verdict
If you are looking for a simple game that offers enough challenge and fun, you can download Donuts Drift on your mobile. Generally, the concept is unique and it certainly has so much potential. The game, however, is too simple to be enjoyed. A dynamically changing map could be an interesting addition. They should also limit the ads as they become more and more annoying as you progress. I'm hoping to see more improvements on its future development!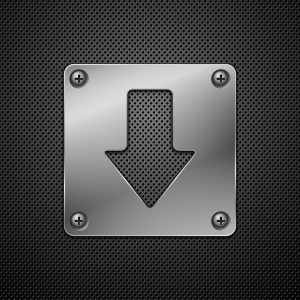 Download Donuts Drift APK for Android/iOS
Select a file to download:
Download Donuts Drift v1.2.2 APK