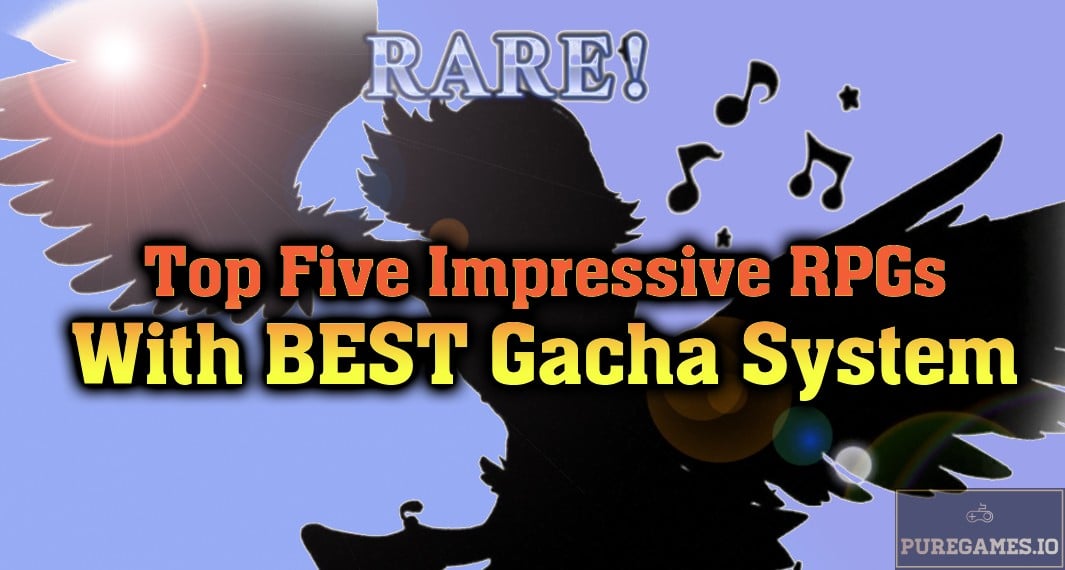 Those who have experienced playing RPG especially games that are developed by Japanese or better known as the JRPG should be aware of what "gacha system" is. The term is derived from Japan's gachapon machine, a vending machine that dispenses capsule toys with surprise items inside. In RPG, the gacha system works the same way. It's a portion where you can summon characters that are randomly generated by the system. The players will have the option to include the character on the existing team or disregard it. You can also switch one character to another if you found a much more powerful character. Listed below are five RPGs with the best gacha system.
Another Eden: The Cat Beyond Time and Space
The game, Another Eden: The Cat Beyond Time and Space is a JRPG that is created in collaboration with Masato Kato, the person behind the amazing story of Chrono Trigger and other epic RPGs like Chrono Cross, Xenogears, and Final Fantasy XI and VII. With such an amazing background, there is really a lot of things you can expect from Another Eden: The Cat Beyond Time and Space. The game certainly did not disappoint as it offers both compelling plot and well-polished gameplay that is wonderfully optimized for mobile devices. This free-to-play RPG follows the story of Aldo and his sister Feinne. The Beast King abducted Feinne to release her dormant ability that can erase humanity. Aldo, on the other hand, attempted to rescue his sister but the ability of the so-called Ogre Rancorem resulted in a distortion of time that teleported Aldo 800 years into the future.
Interestingly, this game managed to capture some classic RPG elements that we saw from the aforementioned video games. It follows a classic turn-based combat system. Appearance-wise, Another Eden takes you to a semi-3D world map that shares similarities with Sword Art Online. You can navigate around the world using virtual joypad and interact with the environment by tapping them. The game comes with a quest system which must be taken sequentially in order to progress (there are also optional side quests to explore that grant you with special rewards). Another great thing about this game is the non-auto combat system. Unlike most RPGs for mobile today, Another Eden will stick to the old school turn-based combat system. It means that you have to come up with an effective strategy in order to maximize your chances of winning.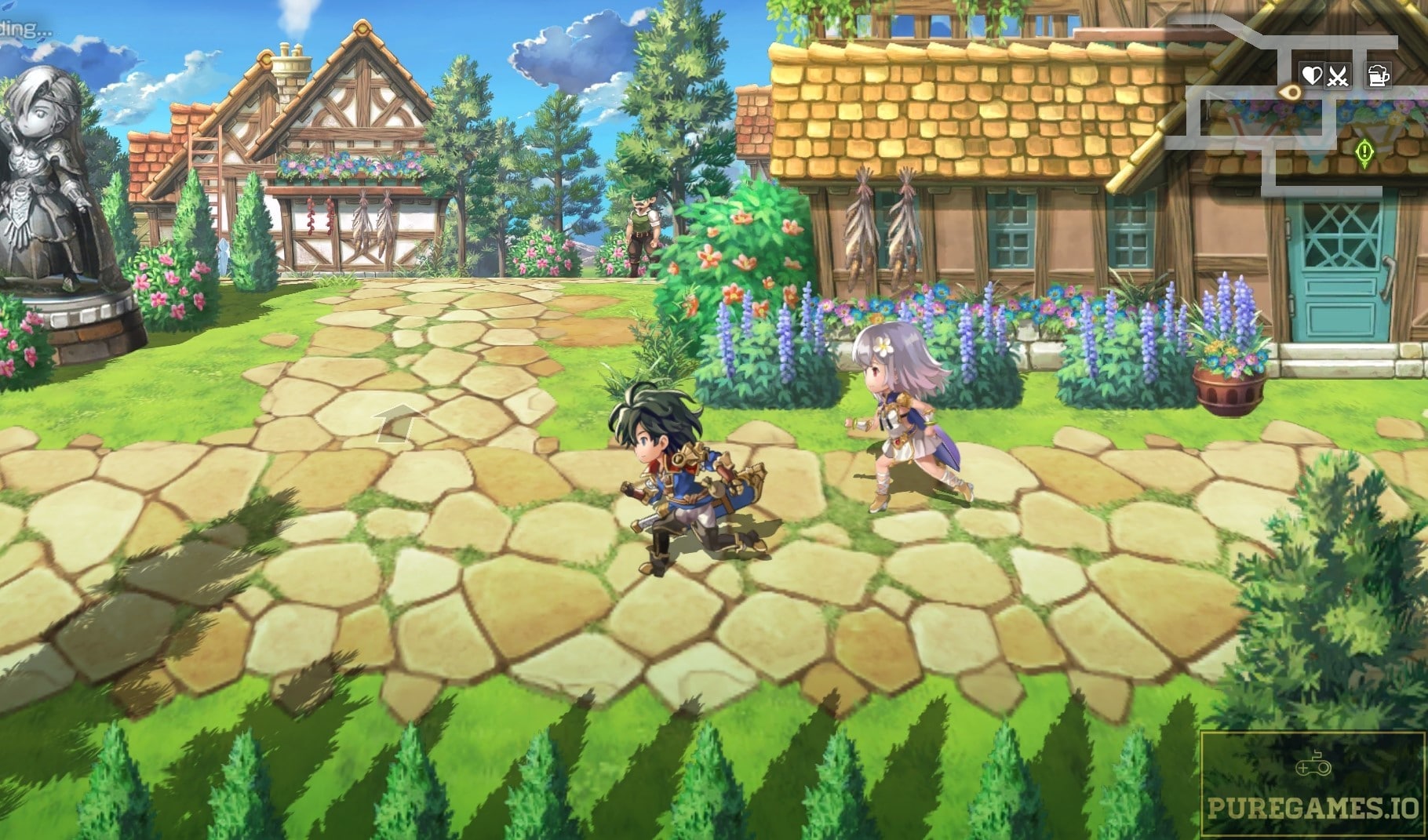 As far as the gacha system is concerned, you can summon new characters through the so-called Gallery of Dreams. This will summon randomly generated characters and since you are traveling through time and space, expect to encounter various characters that are inspired by different time periods. To summon a character in this game, you need to collect a certain amount of Chronos Stones which you can obtain from various ways. Of course, like most gacha system, players can obtain the premium and rare characters through a microtransaction. You can pay real money to earn more Chrono Stones and summon powerful and limited-edition heroes.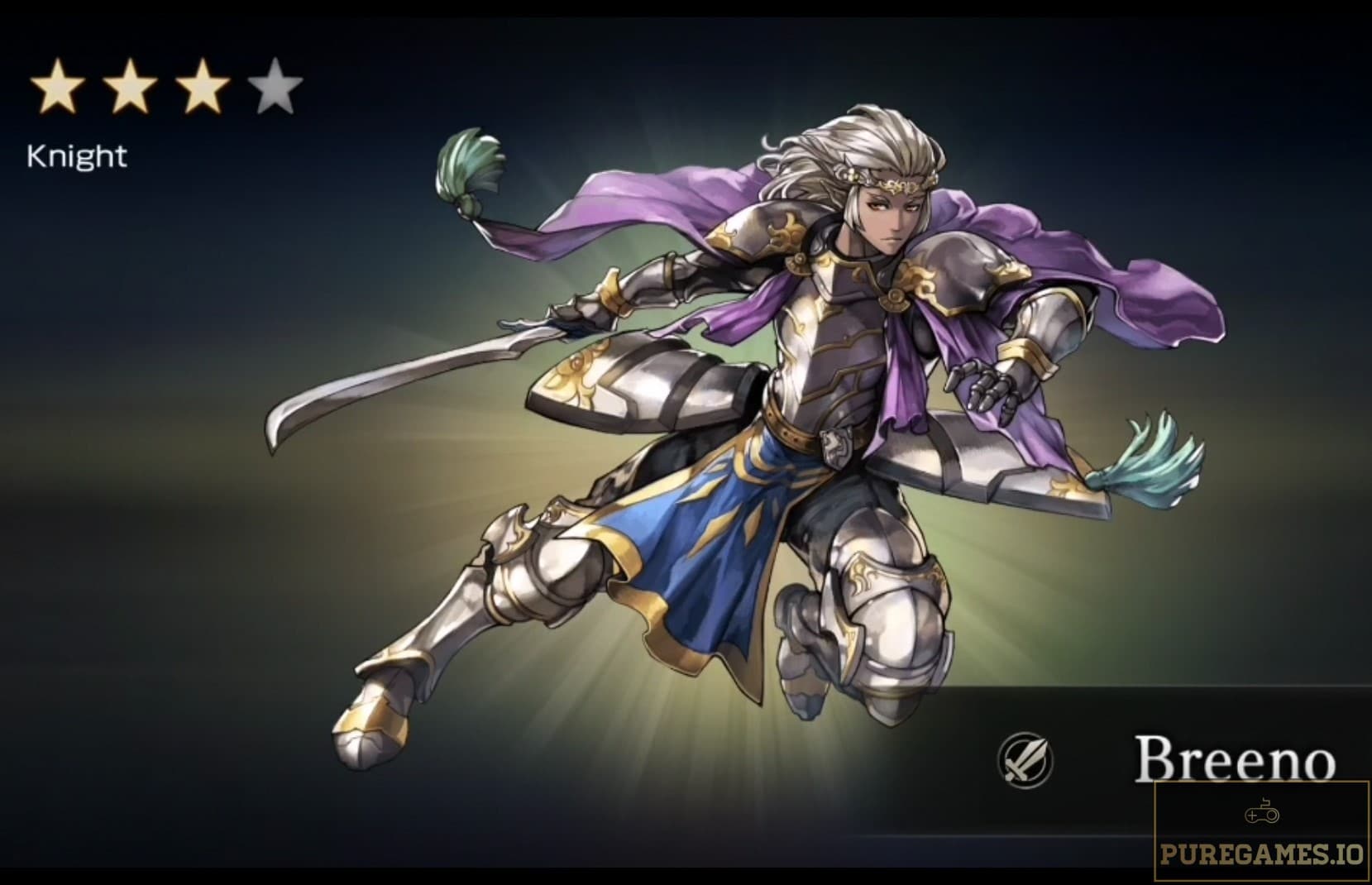 Each summon comes with a cinematic cutscene featuring a clock tower which suited well on the game's time travel theme. Take note that you can only deploy a limited number of characters in every battle. You can customize your team by heading to Menu and select Party. This allows you to select your preferred characters. Each party comes with four characters and 2 reserves. You can create multiple parties and switch them prior to every battle. Each character can also be upgraded to increase their attributes and make them more effective and efficient in every battle. Currently, Another Eden: The Cat Beyond Time and Space is available for both Android and iOS devices and you can download this epic JRPG absolutely for free.
Download Another Eden: The Cat Beyond Time and Space
Fate/Grand Order
Based on the highly successful Fate/Stay Night visual novel by Type-Moon, Fate/Grand Order will take you to an equally epic adventure.  Remaining faithful to its root, Fate/Grand Order will still highlight some visual novel elements. Therefore, you will encounter scenarios where you will be asked with various questions and you must pick your desired answer to progress. Each character in this game comes with their own respective scenario that players can explore. In this game, you play the role of a Master that can command a group of individuals which is referred here as the "servants".  The game also features a unique turn-based combat system that will put your skills and knowledge on a great test.
Like a standard visual novel game, the player will explore this RPG chapter by chapter. This is not the type of RPG where you will be prompted in a virtual world and freely explore the map. The game allows you to explore one stage after another. Prior to the battle, you will be prompted to an interactable cutscene and this is where the story will progress. For each cutscene, you will be asked with a number of questions. You will be given two or more options to answer these questions. After doing so, you will be prompted to the battle. One of the most interesting highlights of Fate/Grand Order is the unique battle system. It's a turn-based combat accompanied by unique commands.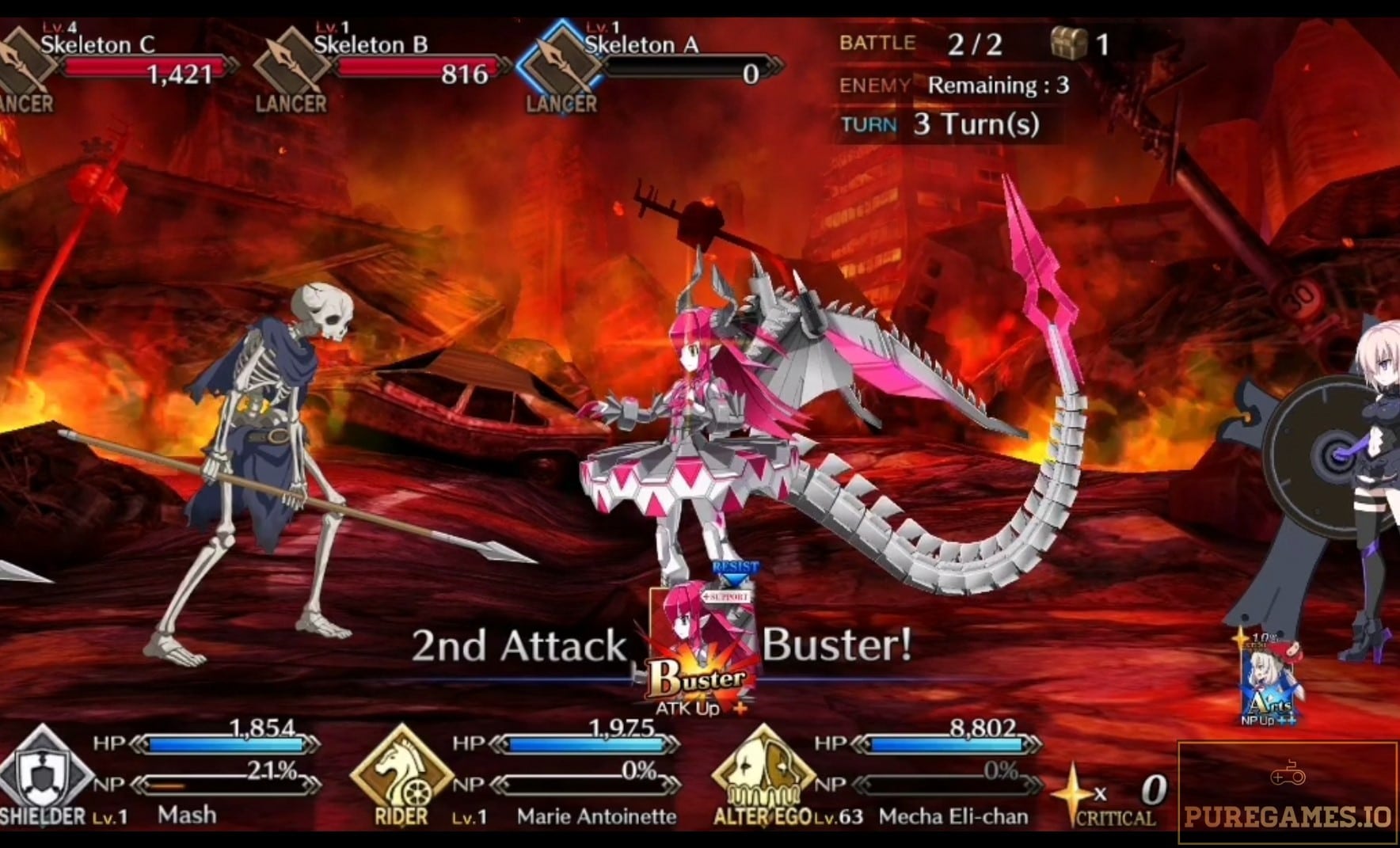 As soon as the battle begins, the player is given five sets of Command cards and may use three of them during his turn to attack. Each Servant has 5 cards the player may use; the cards for all the Servants on the field are shuffled and dealt with the player each turn. The cards have three types: Buster (a heavy attack), Arts (a medium attack that charges a gauge for the Servant's "Noble Phantasm"), and Quick (a light attack that generates Critical Stars that increase the probability of critical hits next turn). If three similar cards are used in one turn, they create a "Chain" which gives a bonus based on the cards' properties. If three cards all corresponding to the same servant are selected, then a "Brave Chain" will ensue, resulting in an extra, more powerful attack being added onto the end.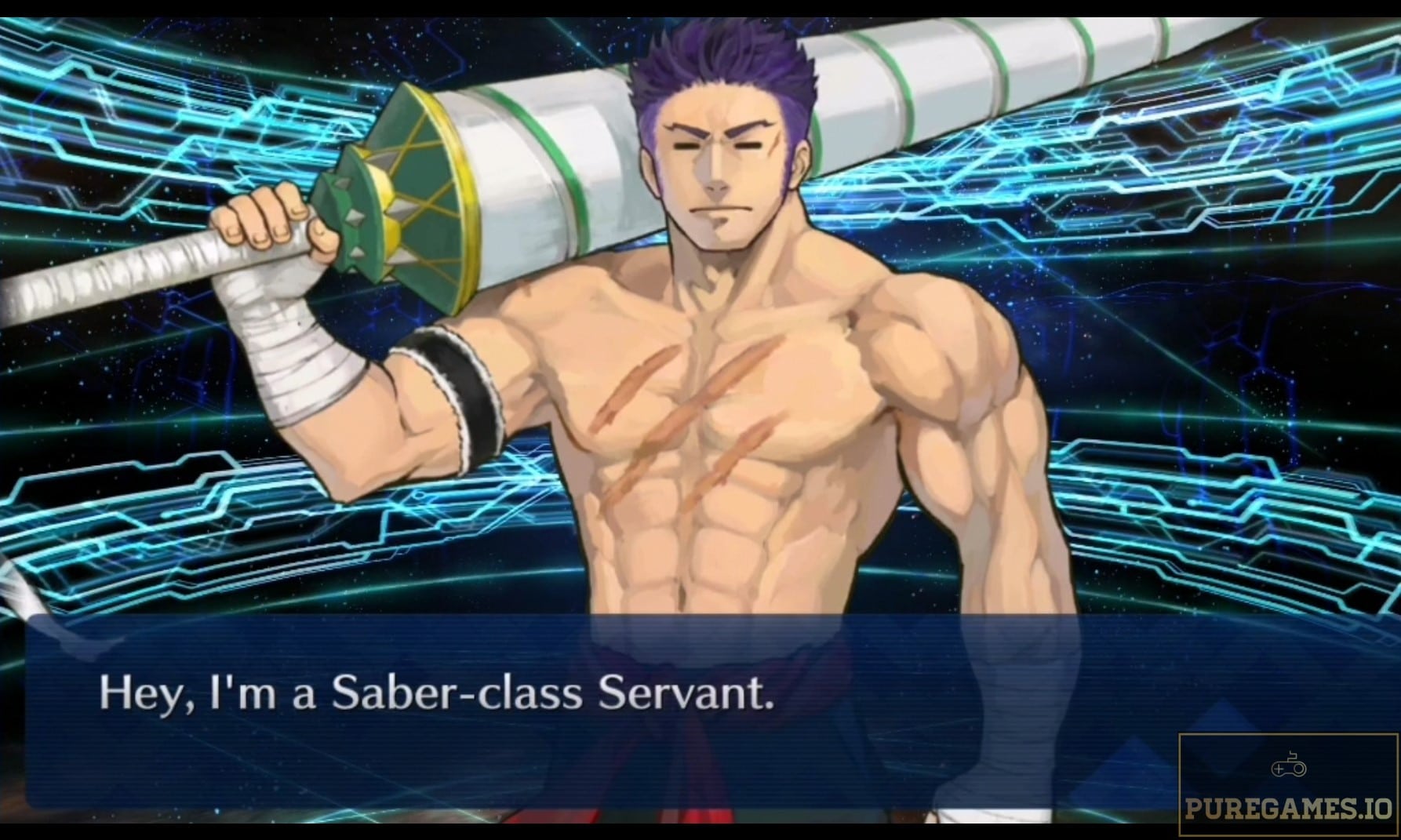 As far as the gacha system is concerned, the player can recruit new heroes through Summon. You need Saint Quarts to summon a new hero which you can obtain through quest and other reward systems within the game. Each hero comes with different rarities and each has their own skillset and backstory. This summoning is random, with some servants available commonly, and others rarely. Another currency is "Friend Points", which are more easily acquired, but only can acquire common Servants with them. If multiple copies of the same Servant are acquired, that servant's power is slightly increased. Like most gacha system, this is also part of the game's microtransaction. You can pay real money to easily acquire rare servants. Fate/Grand Order is available for both Android and iOS devices for free.
Fire Emblem Heroes
From the highly acclaimed Fire Emblem RPG series published by Nintendo since the early 90s, Fire Emblem Heroes will bring all your favorite heroes back. Fire Emblem Heroes is a spin-off game based on the original franchise that was launched in 1990 by Nintendo. The game wonderfully captures all the classic RPG elements that we all enjoyed from its iconic predecessors. It comes with a unique combat system that will surely put your skills on a great test.  Fire Emblem Heroes follows a story of an epic war between two nations; the Askr and Embla. Your role is to play the character serving under the Kingdom of Askr and your mission is to guide your team of heroes as you fight against your foes.
One of the best parts of this game is the unique combat system. As you engage yourself in a battle, it prompts you to a grid map. You can control a team composed of up to four players. It is important to note that each character have different movement restrictions. Heroes will vary in terms of their skills and types. Armored units tend to have a shorter range compared to cavalry units. Calvary units have a longer range but cannot enter forest tiles. The flying units, on the other hand, can enter most tiles, even ones impassable to all other units such as water or mountains. During the battle, the game will strictly alternate between a player phase and an enemy phase every turn. During the player's phase, his or her characters can attack enemy characters when in range; if both the attacker and defender have the same range, the defender will counterattack if still alive.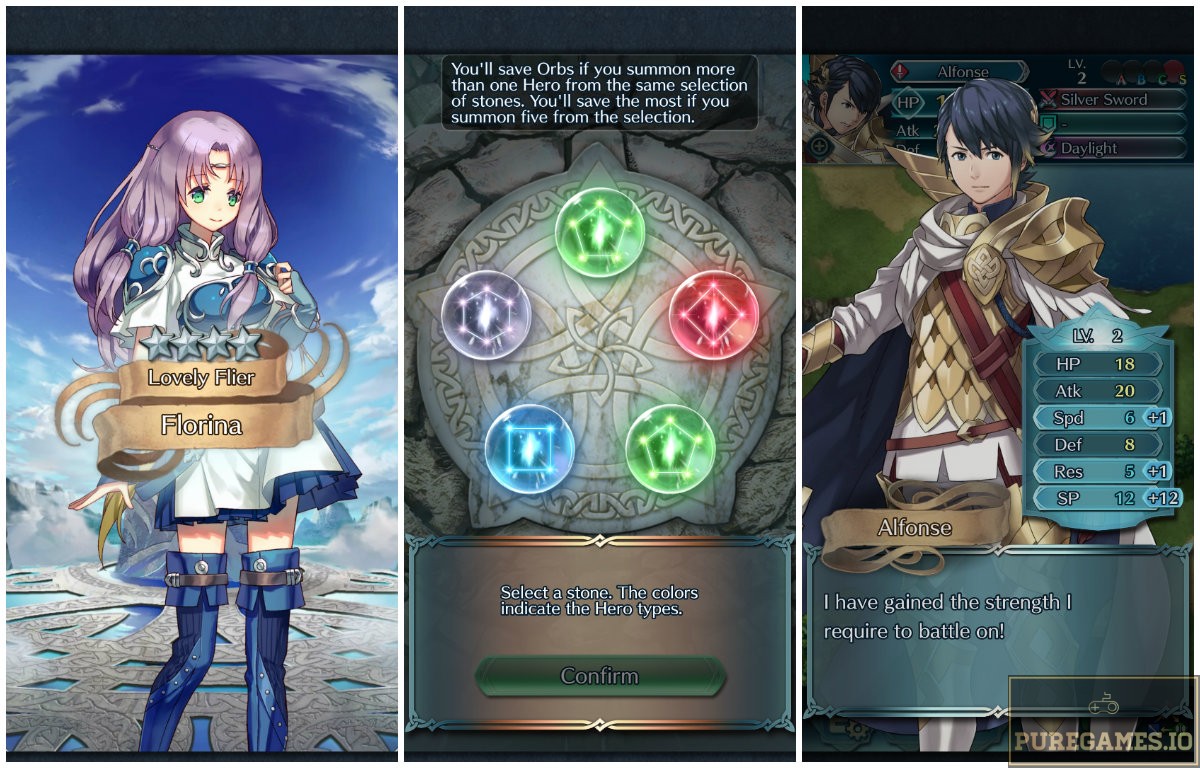 Fire Emblem Heroes also comes with an interesting gacha system. To do so, simply head over to the main menu and tap the Summon button located on the bottom part of the game screen. To summon heroes, you will need a certain number of orbs that serve as the game's virtual currency. Orbs can be obtained through various ways including quest completion and other forms of reward system within the game. It can also be obtained through in-app purchases. Before summoning a hero, you will be asked to select a stone first. The colors of the stones indicate the hero types. You will save orbs if you summon more than one Hero from the same selection of stones.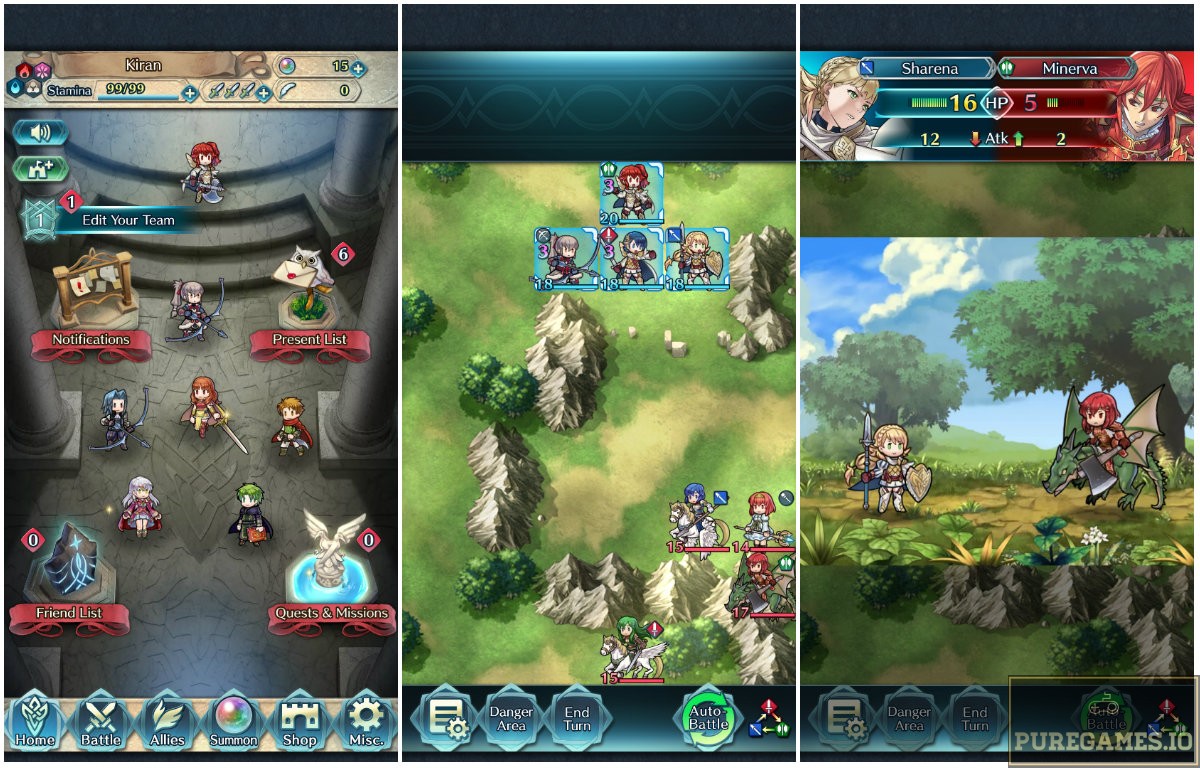 Unlike most mobile RPGs, it is also interesting to mention that Fire Emblem Heroes is presented on a vertical screen. It comes with a simple and easily understandable interface. Appearance-wise, Fire Emblem Heroes is an absolute visual delight. The game treats you with colorful characters that are inspired by the original franchise. It is also important to mention that since this game is optimized for mobile, it comes with an Auto-Battle mode. There is also an option to upgrade your heroes to make them more efficient in every battle. Currently, this epic RPG is available for both Android and iOS devices and you can download Fire Emblem Heroes absolutely for free.  If you are an avid fan of the franchise, this game is definitely something you should include on your game list.
Honkai Impact 3rd
We are still not convinced that this game is made for mobile. As far as the quality is concerned, Honkai Impact 3 managed to surpass all our expectations. This 3D Action RPG is developed by miHoYo that follows the success of its two predecessors. It follows a story of Kiana Kaslana, a member of an elite force called "Valkyrie Unit" and her mission to defeat the invasive enemy force known as the Honkai. The game is a wonderful mixture of different RPG genres. There are hack-and-slash elements accompanied by platforming, dungeon crawling and even social simulation depending on the type of mode you explore. It offers both multiplayer and single-player game modes. Generally, there are so many great areas to explore in this game. Just make sure that you have ample storage available on your device as this game consumes a lot. Well, knowing how impressive this game is in almost all aspects, Honkai Impact 3rd is absolutely worth a download.
In Honkai Impact 3, you take control of a team of up to three characters known as Valkyrie. Initially, you take control of major characters like Kiana but you will eventually be accompanied by other heroes. Unlike a typical combat system in most RPGs, this game allows you to switch from one character to another during the battle. Simply tap their respective icons on the screen and the switch will take place right away. Each character will vary in terms of their types, skills and combo attacks. Valkyrie stats and skills can be customized with various weapons and equipment, which can be improved by using in-game resources. Characters also have their own strengths and weaknesses and you must skillfully match them to the right foes.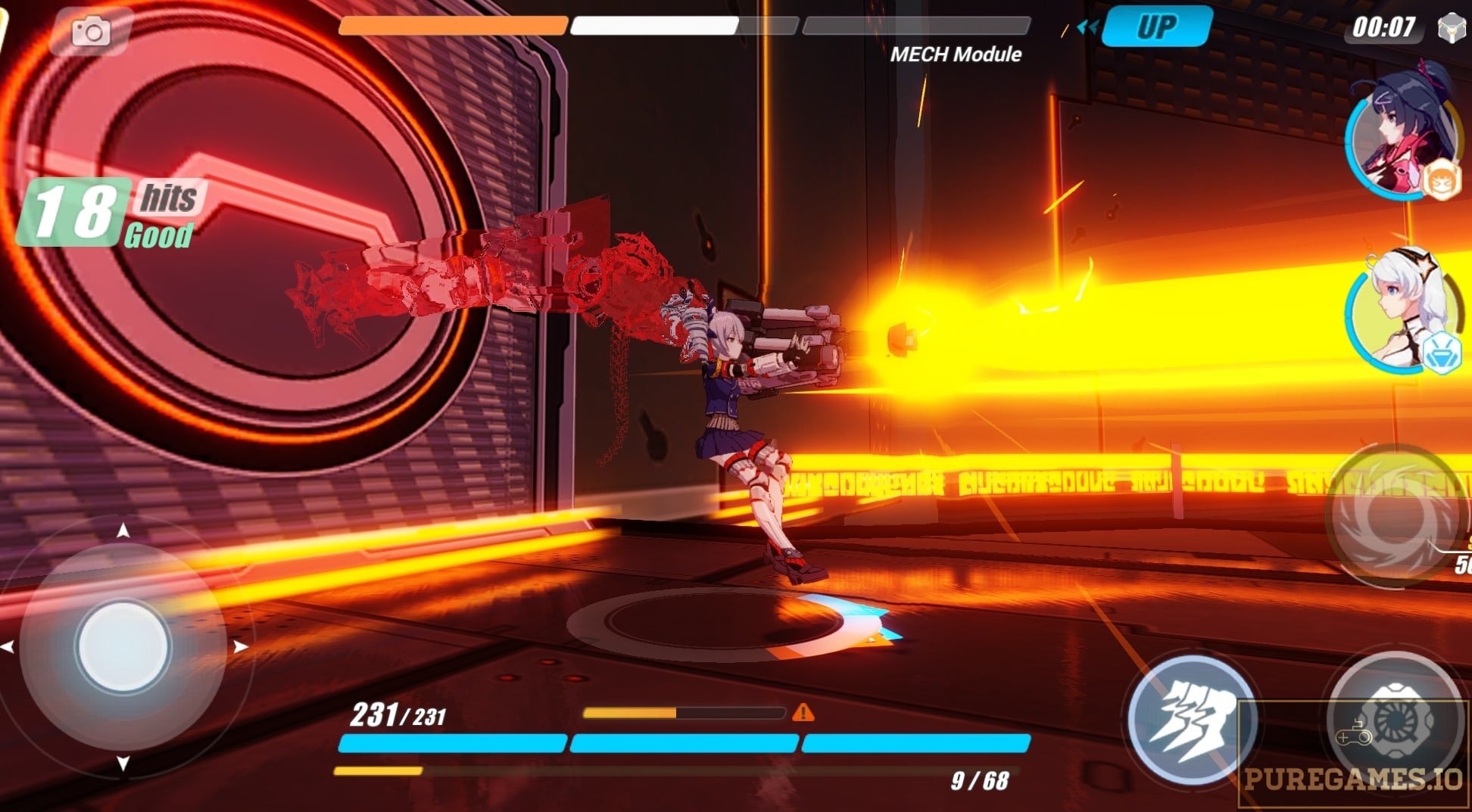 It is also interesting to mention that Honkai Impact 3 is one of those RPGs that doesn't use Auto-Battle. The player must come up with an effective strategy to win the battles. If necessary, you must skillfully switch one character after another during the combat. There's also a combo chain attack that can be executed with a proper action sequence which can be very tricky and thrilling at the same time. The battlefield will also vary from time to time.  You might find yourself exploring Semi-2D platforms on one stage and switches back to 3D perspective on the other stage. One thing is for sure, Honkai Impact 3 is an absolute visual delight that treats players with remarkable visuals, impressive character designs, amazing voiceovers, and immersive 3D maps to explore.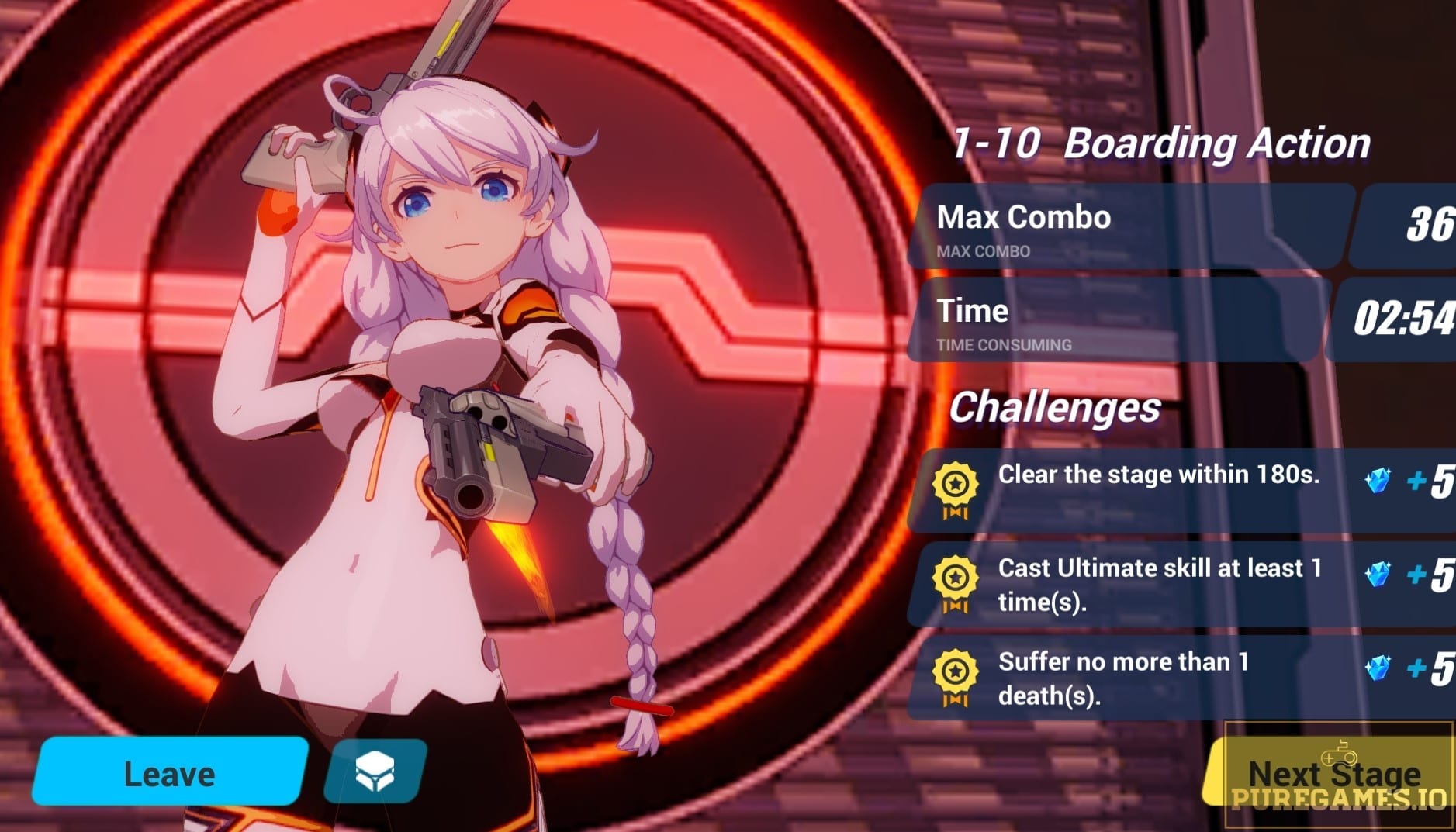 Valkyries, weapons and even the so-called Stigmata (special equipment) can be obtained either through in-game crafting or through a gacha system. Every time you complete a level, you will earn rewards. If you are lucky enough, you can obtain character pieces and if you earned enough, you can soon unlock the character. The gacha system allows you to generate new Valkyrie of different types and rarity. Like most gacha systems, you can purchase premium items via the in-game shop. The game also offers multiplayer game modes. There are PvE or cooperative battles and PvP which allows you to fight against other real-time online players via Memorial Arena and Dirac Sea game modes. The game also has mini-games, dungeon crawling,  and even Battle Royale game modes to explore. If you want to play this game, Honkai Impact 3 is available for both Android and iOS devices and you can download this epic RPG absolutely for free. Have fun!
Valkyrie Connect
Valkyrie Connect by Ateam Inc is another impressive RPG that provides great focus on its gacha system. In this game, you take the role of a hero that wields a legendary dagger, a magical weapon that grants you the ability to summon various heroic beings. Well, the story is undeniably formulaic and the concept was already used in many games that belong to the same genre. However, despite the overused format, it is still surprisingly effective. The game managed to aptly incorporate the gacha system into their story. On your journey, you will eventually be accompanied by Skuld, a Valkyrie from Asgard, and Hel, ruler of the underworld.  Along the way, you will come across many different characters, almost all of which can become playable. As what the title of the game suggests, Valkyrie Connect will have many references to Norse Mythology.
The game comes with a simple battle system. Like most RPGs for mobile today, Valkyrie Connect allows players to take advantage of its Auto-Battle feature. The game will focus more on the fast-paced battle and you no longer need to manually explore a virtual world or interact with NPCs just to progress. Valkyrie Connect will take you to a stage by stage combat system. At the end of each stage is a Boss battle. Before engaging in combat, you will have the opportunity to customize your team. A player can deploy up to five heroes in the battlefield. Each hero will vary in terms of their given skills and attributes. They also have their own special skills which you can manually activate during the battle.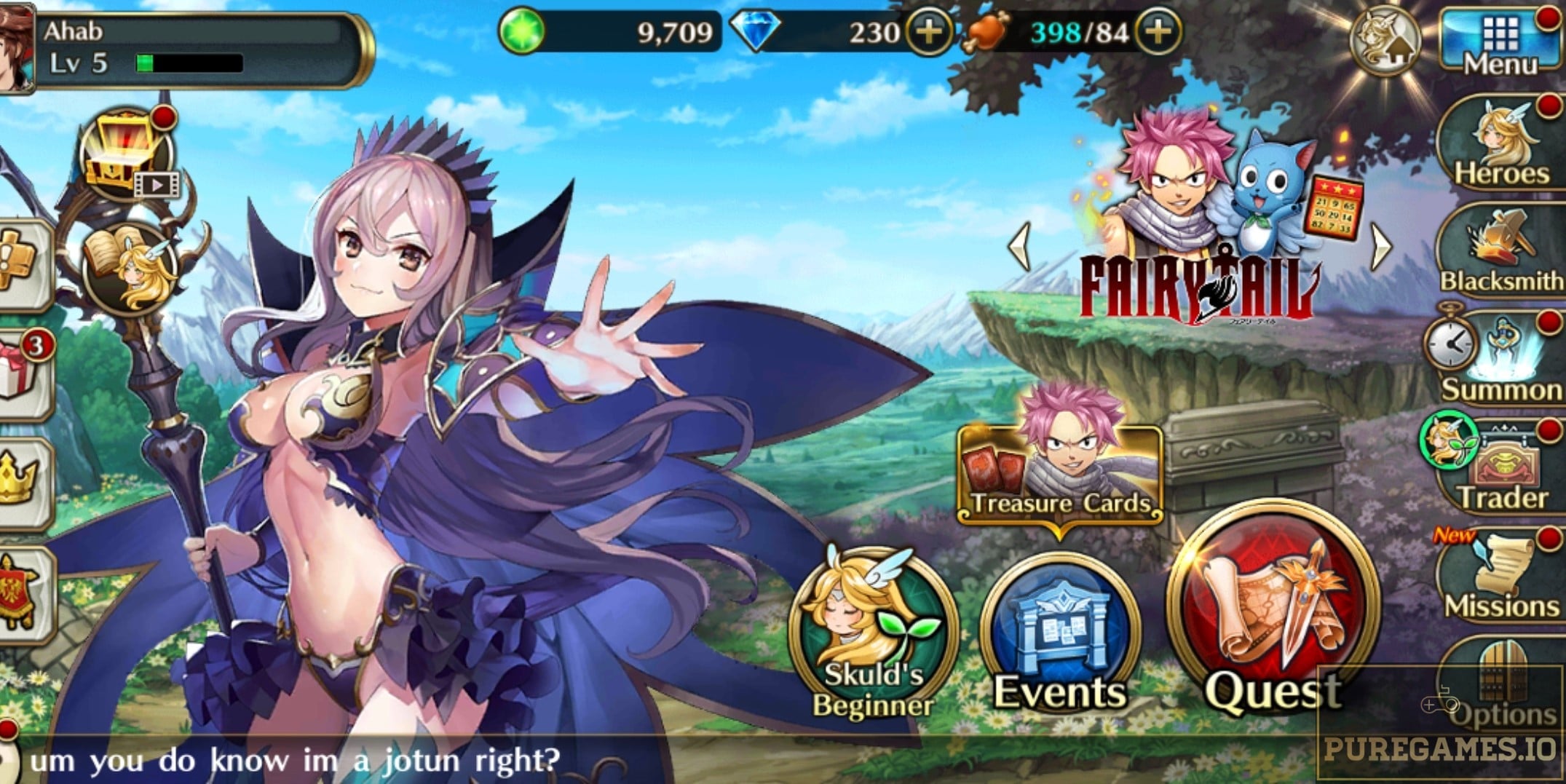 The battle might be less challenging at first but it becomes trickier as you progress. You must soon learn to summon the right team of heroes to maximize your survival. Speaking of heroes, the main highlight of Valkyrie Connect is the gacha system. To do so, simply head over to the main menu and tap the Summon button. The game has two main forms of currency, which are mana and diamonds.  Mana is the base currency and is used for pretty much all basic functions in the game while Diamond is the premium currency that you can use to summon new heroes. There are three different types of heroes including melee, magic, and ranged. They will also vary in terms of their levels and rarity. Of course, those players who paid for premium will get most of the advantages.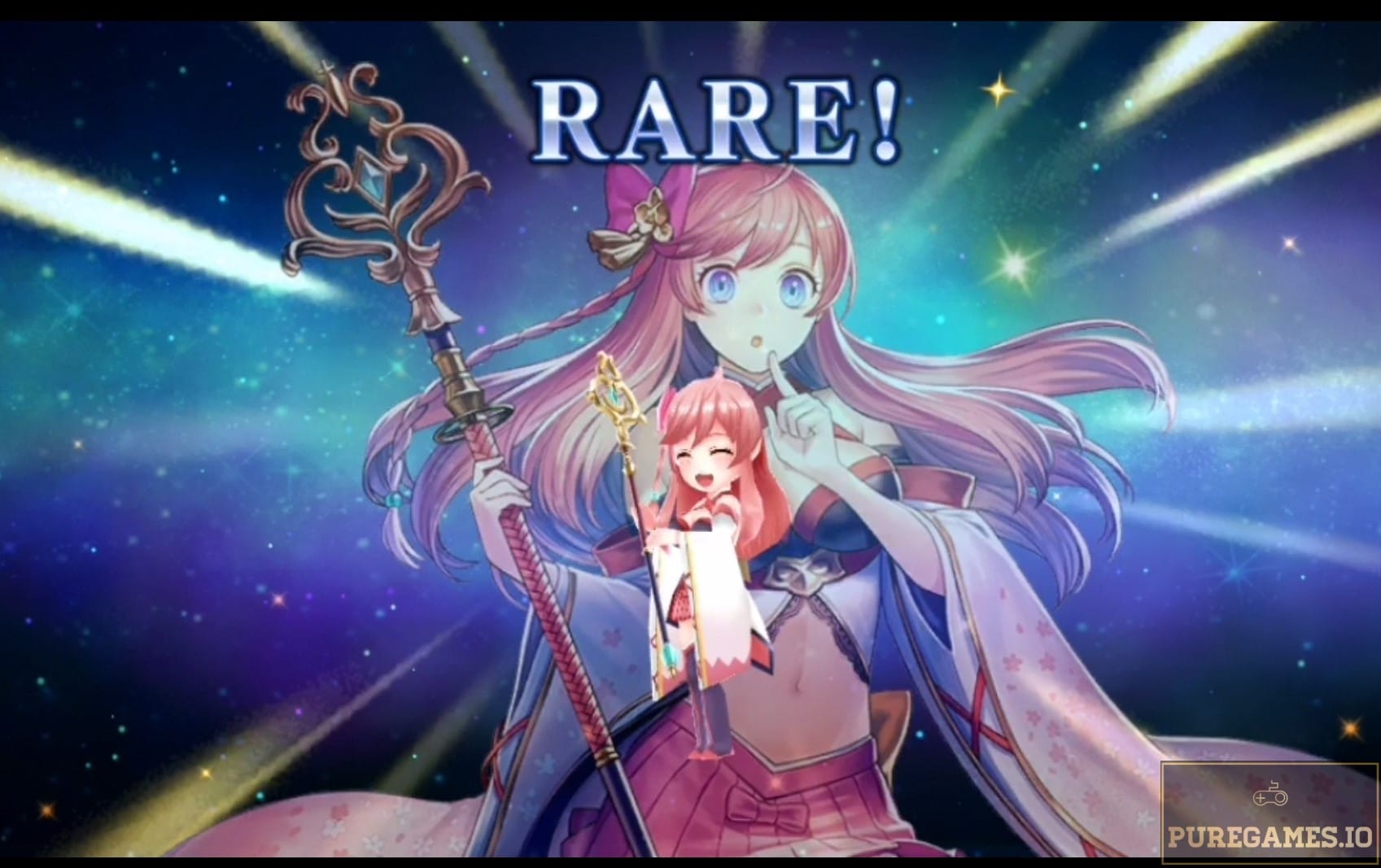 Aside from diamonds, you can also summon heroes using Mana. Mana Summon can be done for free five times daily and 10,000 mana for each additional summons, and they reward either one-star or two-star gear or hero souls. The game also has a multiplayer element that allows you to interact and compete with other real-time online players. Connect Battles allow you to fight huge monsters along with other real-time players. The PvP mode, on the other hand, can be accessed through the Arena and Grand Arena battles. There's also a guild system and other equally engaging multiplayer functions that are worth exploring. Currently, the game has limited even in collaboration with Fairytail characters. The game currently has over 150 characters to unlock from 7 different races. Valkyrie Connect is available for both Android and iOS devices and you can download this amazing action RPG for free.