| | |
| --- | --- |
| Publisher | Voodoo |
| Platforms | Android 4.4 and up |
| Price | Free |
| Size | 54 MB |
| Latest Version | 1.11 |
Voodoo Games are often characterized by their overall simplicity yet addictive gameplay. Fire Balls 3D is not different at all. The game features simplistic animation with an engaging and surprisingly addictive gameplay. The objective is simple, tap and hold the screen to fire balls towards the moving tower until it is completely destroyed. The trick however are the moving barriers / obstacles which you must avoid at all cost in order to keep you in the game. If you think you are skillful enough to master this highly addictive game, then feel free to download Fire Balls 3D and see how far your skills can take you.
The Gameplay
The mechanics for Fire Balls 3D are simple and easily manageable. As soon as you download Fire Balls 3D, the game prompts you immediately to the first level. In each level, you need to pass through two stages. To start, simply tap the screen and your avatar will automatically shoot balls. Tap and hold the screen for continuous shot and release it to stop. Basically, the game is all about proper timing. Surrounding the tower is a moving obstacle. You must prevent hitting any of the moving obstacles, otherwise, the ball will bounce back to your avatar and destroy it.
If you hit the obstacles, the game will come to a quick end and you have no other option but to start the same level from the very beginning until you manage to make it through. It is also interesting to note that you also have a skill which gives you the ability to destroy the obstacles. Underneath the tower is a gauge meter which fills up every time you hit the tower. If the meter has been filled, you can activate the power up that destroys everything it touches along the way. Take note that it only lasts for a short period of time so make sure to use it very wisely.
Increasing Difficulty
One of the things you will absolutely enjoy when you download Fire Balls 3D is the increasing challenge. The rate of difficulty drastically increases as you progress. Levels will become more complex where others are seemingly inescapable. It's true that the mechanics are simple but the game requires mastery in order for the players to win. The players are encouraged to exert the best of their visual reflexes and also to show off their impressive eye and hand coordination to maximize their chances in winning.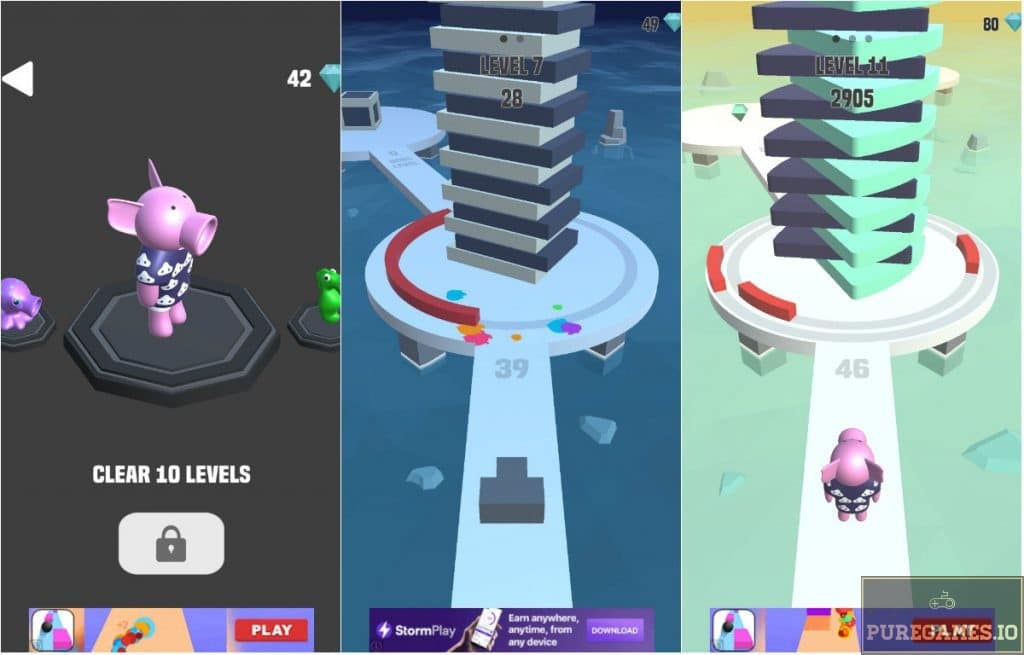 By the time you have reached the 10th level, new stages will be added and boss levels will become more challenging. Fire Balls 3D also comes with an interesting score system. In case you are familiar with Helix Jump, the score is also increasing exponentially for Fire Balls 3D. On top of that, you also earn bigger score for every "Near Miss" hits (nearly hitting the moving obstacles).
Unlockable Skins
Aside from the 20 colorful interchanging themes, another great feature of Fire Balls 3D is the ability to unlock new skins. You can unlock skins in many ways. First is through gems. Some of the available skins can be purchased through gems which you can earn by completing each level. You can also unlock new skins by simply reaching certain levels.
Players also have the option to revive the avatar by purchasing Lives. Lives are part of the game's microtransaction and you can buy them through real money.
Verdict
Fire Balls 3D is indeed a great game. It has a straightforward rule and is adorned with simple yet engaging 3D Graphics. Despite the apparent simplicity, Fire Balls 3D is undeniably entertaining and surprisingly addictive. It has a remarkable replay value and commendable longevity. Currently, Fire Balls 3D is available for both Android and iOS devices and you can download the game for Free. Have fun!