Publisher
KLab
Platforms

Android 4.4+;

 iOS

Price

Free

Size
49 MB
Latest Version
1.11.0
Oh boy will the fans of the famous football manga be happy to try Captain Tsubasa: Dream Team. Others? Well, I guess not so much.
First impressions
The first thing that annoys a little bit is that the game is a lot bigger than the download in the Google App Store. So get ready for some downloading in-game, instead of instant action in this football title. This is normal for bigger games to have the installation be done from the inside, but it usually goes with notifying the player. So if you planned on enjoying this one with your own connection without checking previously, good luck! And the information about the game that you can get during this wait time slides so fast that you almost always have to go back to the previous slide manually. If you have decent internet speed, these 700+ MB will be over in a jiffy. For us with a bit slower connection, this is kind of agonizing. Especially if you have to guard your phone from locking itself.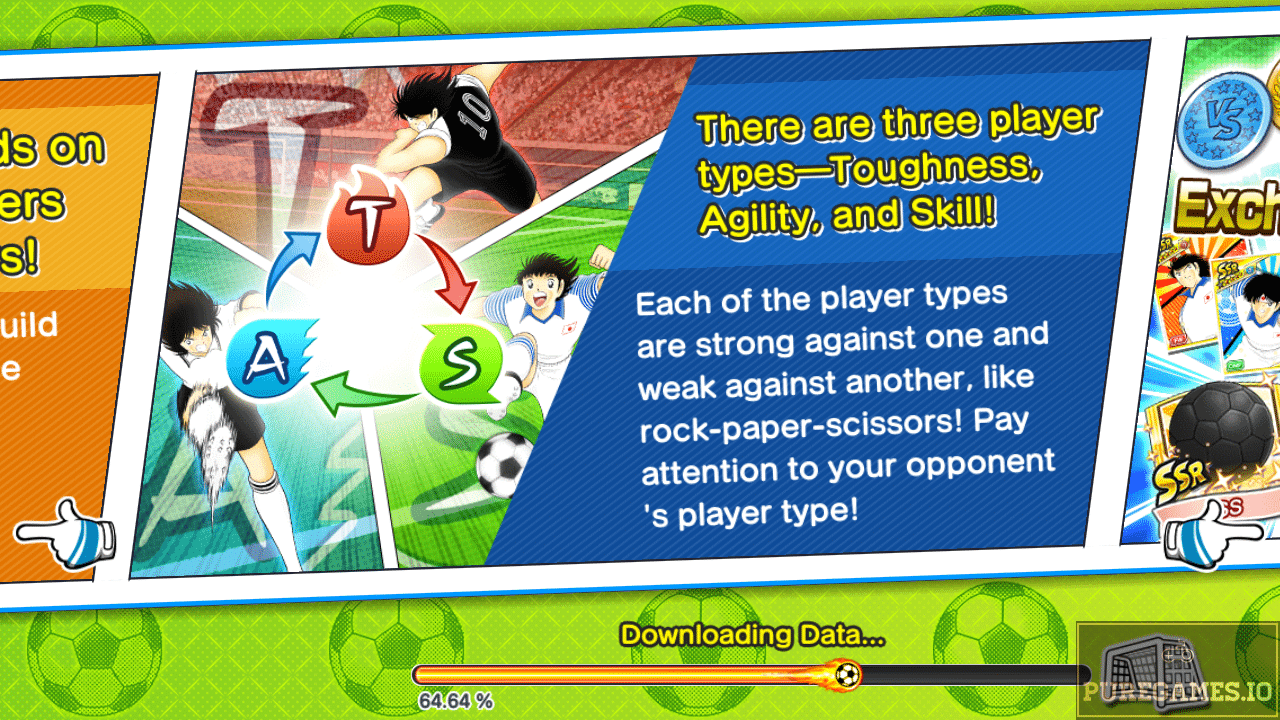 Overview
Captain Tsubasa: Dream Team is a football simulation game, but I would add that this simulation here is superfluous. It has more of an arcade and action approach. And it's turn based. Would you look at that? At one side terms like arcade and action, and on the other, turn-based. A really interesting combination I must add. You'll see how that works, soon enough. And it's heavily story driven, so you get to attach to your players not just by how good their stats are, but their personal adventure.
That said, it's not surprising that the main mode is the Story mode, in which you'll follow Tsubasa Ozora from his early, high school days. Other than that you can play the League mode when you unlock the third rank. Then there is an Online mode for those who feel really competitive. Another segment of the game is the team – in which you can work on your players individually or upgrade all of them as a team.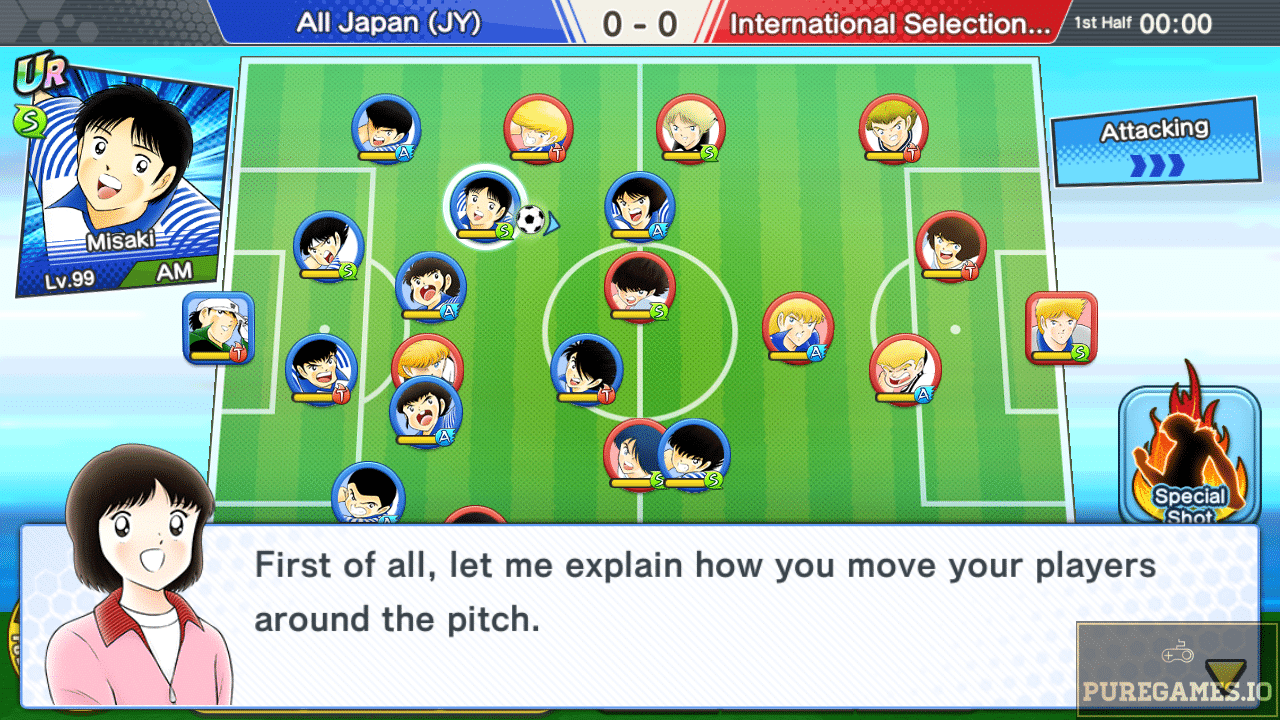 Gameplay
You observe the whole match from a top-down perspective. You can see all of your 11 players all the time. They do move automatically, but you can interfere, with some actions. If your team is in the possession of the ball, simply tap anywhere on the screen to pass the ball. That could be your teammate, or empty space, if you think you can pull off a through pass. When one or more opponents close in on your ball player, that's when the turn-based part starts. It's called a matchup. It has an interface of its own. You face the opponent and choose one of the options: to pass the ball, to shoot, to dribble that player and to try a one-two pass. Whatever you choose, can be outplayed by the opposing team, depending on the skills of the player you matched, or the general layout on the field.
There are several tactical options to choose from. You can switch between offensive, defensive and balanced play style of your team at any moment. But the even more important choice is between the manual, semi-auto and auto mode. Manual means that you get to control all of your players for the whole match – in the top-down mode, as well as in matchups. Semi-auto means that you'll interfere only during the matchups and the third one means that all is done by itself. The good thing is that you can always switch between these. The bad thing is that auto option will always suck out the fun out of it, no matter the lead. Good developers will tend to make their games less automatic as possible – that's the point of the whole medium! Want things to happen on their own? Go watch a movie!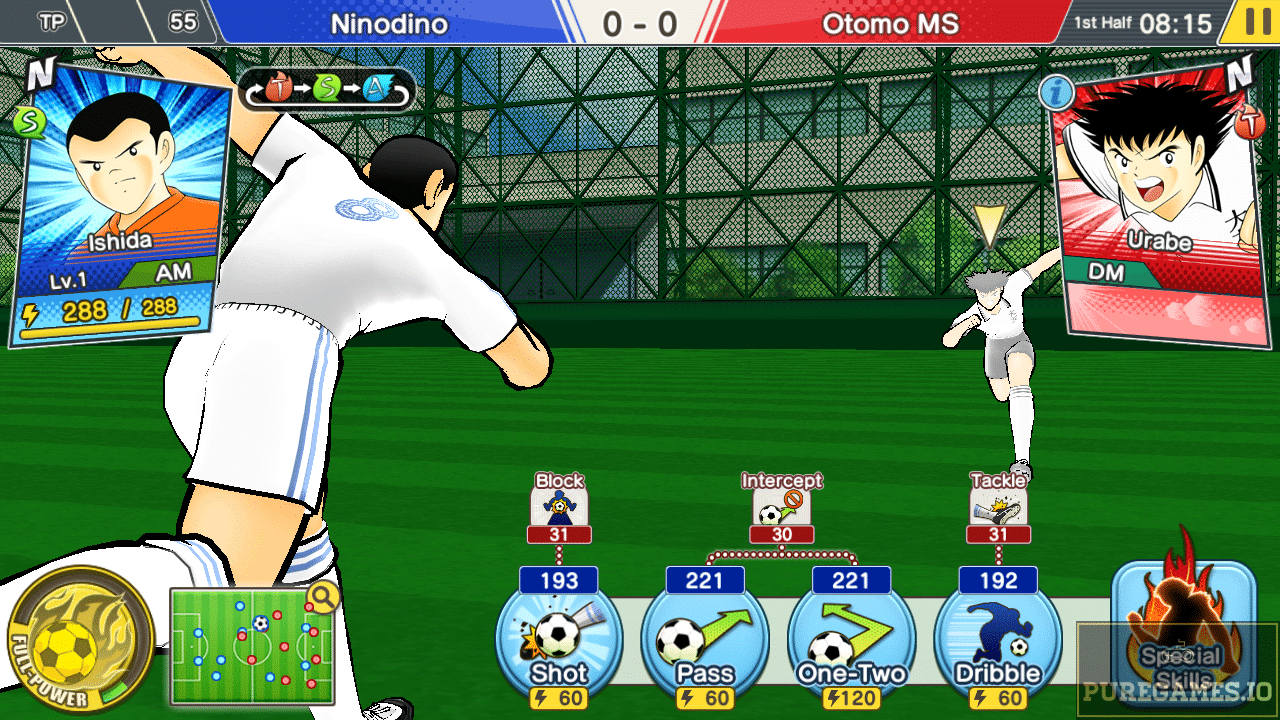 Weird mixtures
Although this system seems interesting and innovative on paper, the real-time part of the match is a bit too much fast paced for you to make any significant actions. I must admit that due to my slow reflexes, I seldom manage to react to situations in the top-down mode, so most of the times I do feel like playing semi-auto, although it's set to manual. Some turn-based features in that part of the game could fix this feeling. Maybe it's just me, but I don't think I'm alone in this. It's not just about the skill. The general pacing. Combinations of real-time and turn-based seldom gives great results. It's usually a smart move to go with one of those.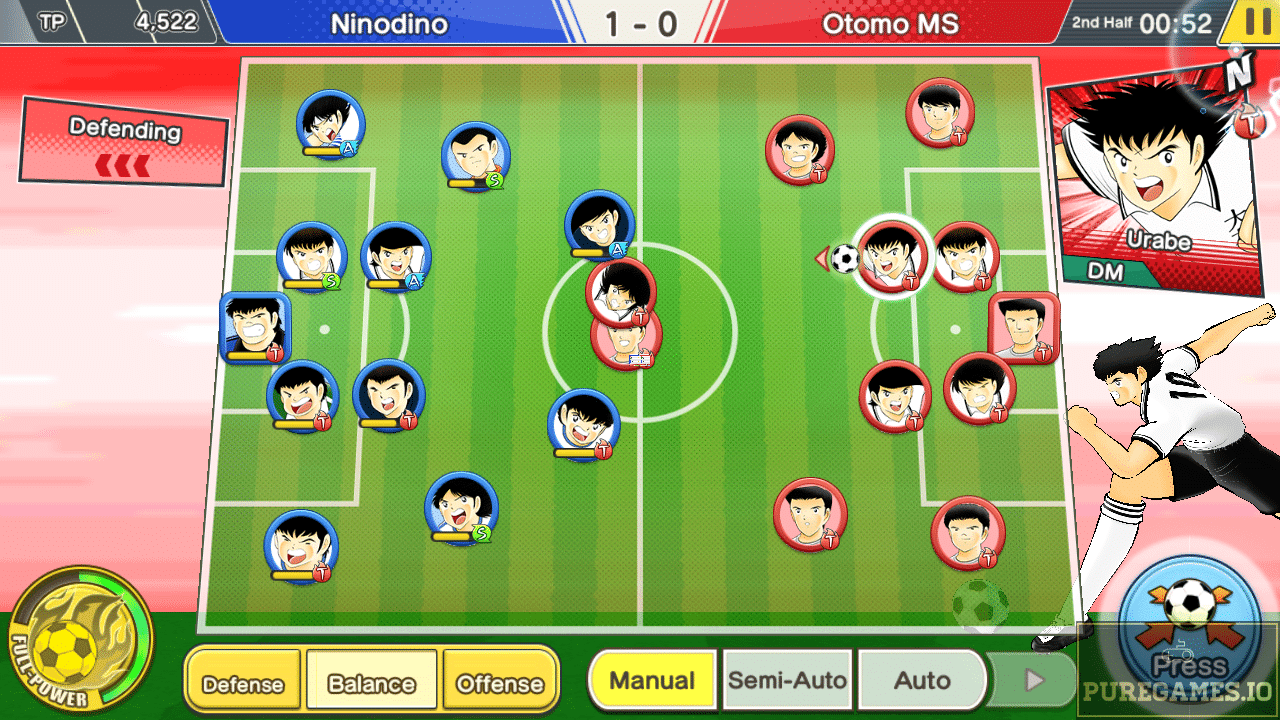 Upgrading your players and your team
There is an option in the main menu called the Transfer. There you can trade and earn new players that should bring some freshness and improvement to your team. Other than their playing position, players differ in their main skill, which brings us to an interesting mechanic. It's like, how the game itself admits, rock, paper, scissors. Instead of that, you get: skill, agility and toughness. They form a triangle in which each of them is stronger against the next one and weaker against the previous one. Similar goes for the commands in matchup – tackle is strong against dribble, intercept is a defensive move strong against pass, block against shoot and clear against trap. So, when transferring for new players, you'll need to have this information in mind.
Everything has a numeric value to it, including the player stamina, so comparing two of them is pretty easy. Each command and special skill costs stamina also, so you can even calculate how much of those can you use in a single match. One half of a match to be exact, because stamina replenishes at halftime. Each player, as well as the whole team can have a special skill, which you unlock and buy throughout the game. You can simply progress and earn these, or check out the missions and daily events and rewards to come into possession of some dream balls, the main currency for receiving new transfers.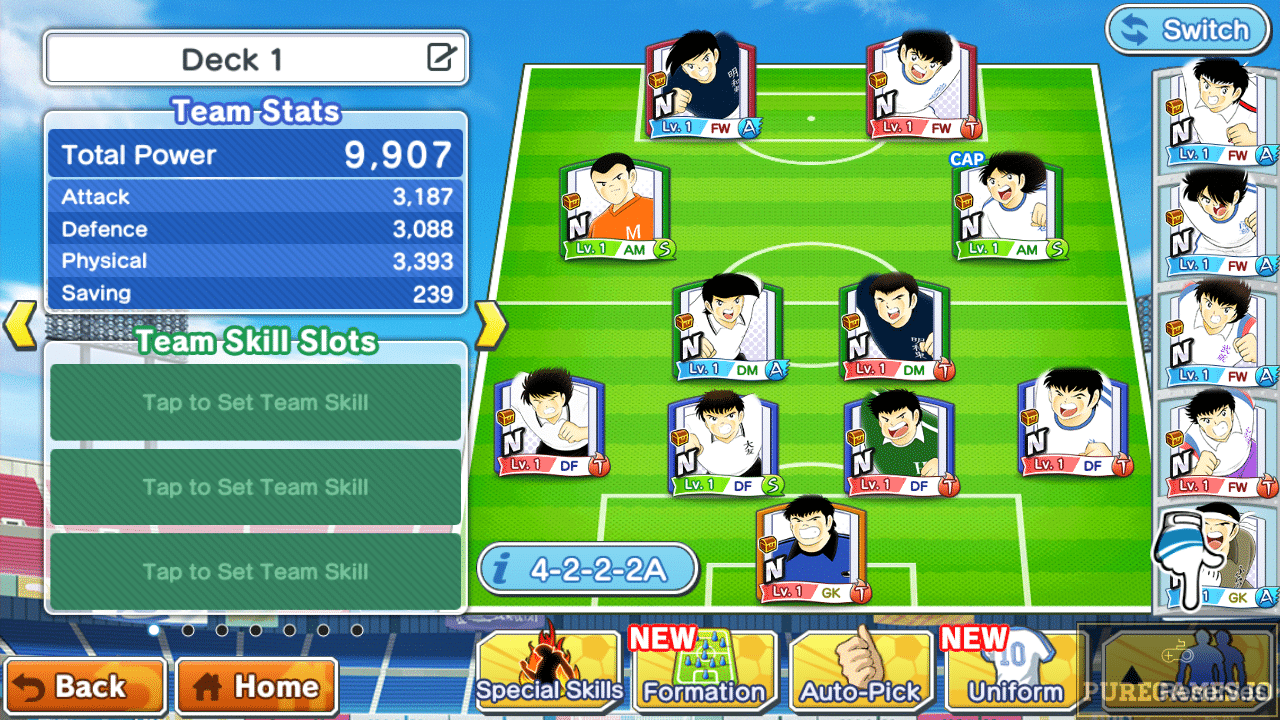 Presentation
High influence of the Japanese culture is present in this title. From the visual style to animations, action packed cut scenes and dialogue. Everything looks and feels like a football manga. After all, the game is based on a TV show of the same name, so if you like how it plays out, go check out the series. The story is quite intimate and original for this genre, too bad most of it is presented through scrolling text. Cut scenes are reserved for action flavored content.
This whole approach could seem silly to a football fan. Even to those who enjoy the true virtual adaptations of the sport, such as FIFA and/or PES. But, even by looking at the cover photo of the game you know that you're not dealing with a realistic simulation of the well known sport. Music is also more according and fitting for an action or a racing title, and if you would put that kind of score into realistic titles mentioned above, it would sound silly.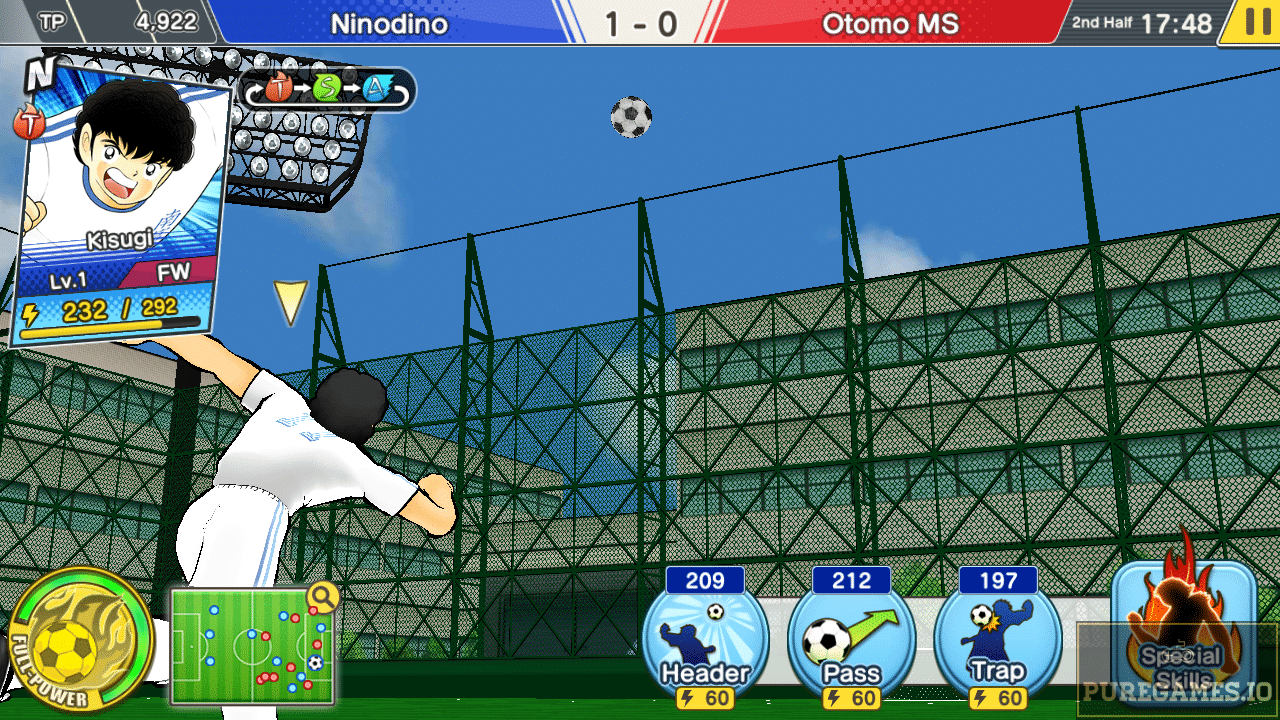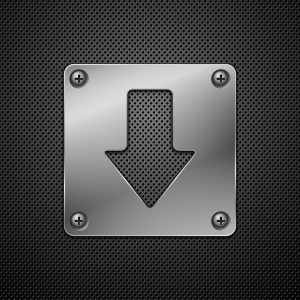 Download Captain Tsubasa: Dream Team APK for Android/iOS
Select a file to download:
Download Captain Tsubasa: Dream Team v1.11.0 APK