| | |
| --- | --- |
| Publisher | Lion Studios |
| Platforms | Android 4.1 and up |
| Price | Free |
| Size | Depends on device |
| Latest Version | 2.4.0 |
You find knitting and weaving interesting, but you want to keep your fingers? Maybe Weave the Line could provide a peaceful and a fitting game experience for you.
Overview
It sounds and looks simple, but it isn't. You are given a shape: lines connected by dots. Your job is, well, to weave the line! Rearrange those elements in order to mimic the assigned shape, right above your working surface. The player should keep in mind that the lines can't overlap. Maybe first few levels will go down without a sweat, but after that, you'll start using your undo, restart and hint options cheaper by the dozen. But, be economic with your hints. Don't just use them right away when you bump into a harder level. You'll need them for all of 530 levels game has to offer, split in three game modes.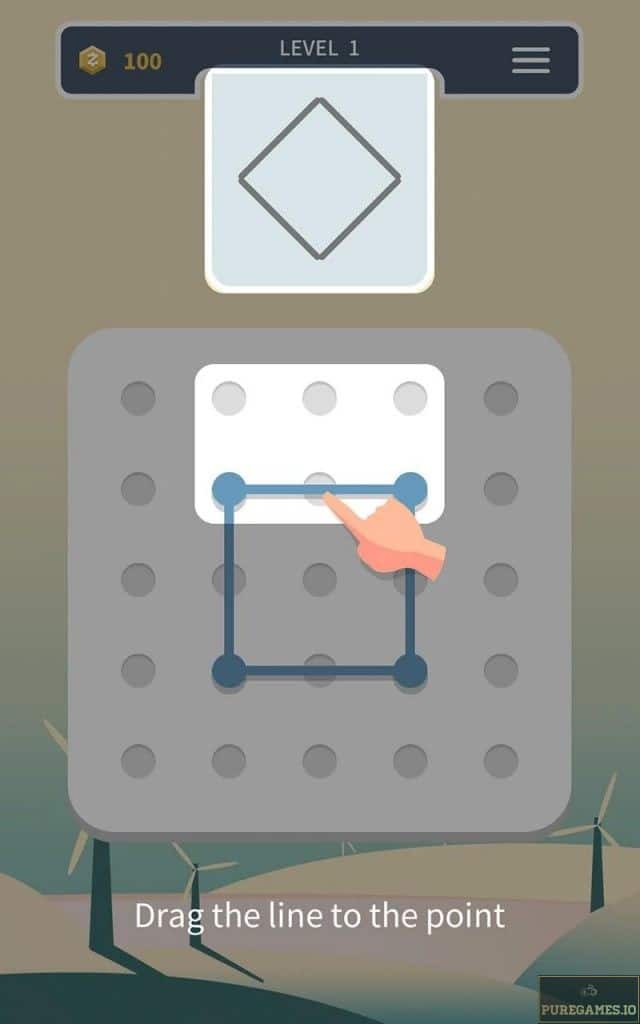 Game modes
First one is classic. As described above – you work with one shape at the time, and go through 170 levels, split in five difficulties: easy (30 levels), normal A (40 levels), normal B (30 levels), normal C (30 levels) and finally, hard (40 levels). These become challenging somewhere on the first transition between easy and normal A.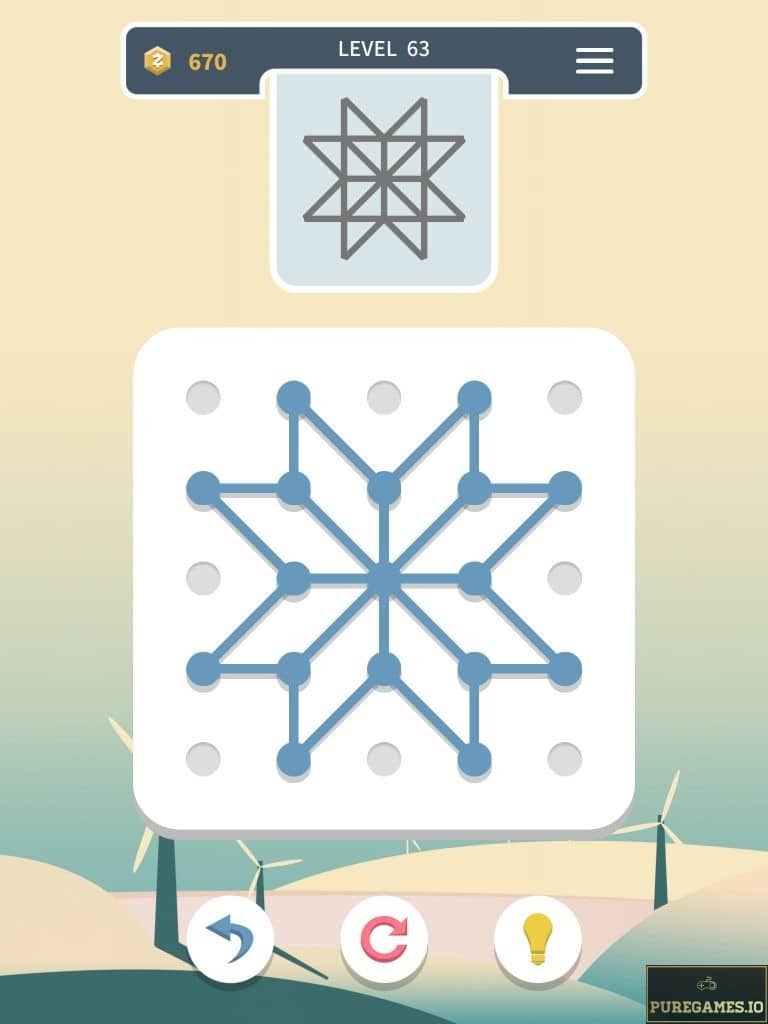 Name of the second mode is mirror. In this one, you work with two shapes, but you can change only one of them. Other shape changes accordingly to the first one, like they are in some kind of a mirror, hence the name. This mode is definitely more interesting to experiment with, and it has an easier learning curve, so after you find the classic mode too hard, maybe try this one. Much of levels in the first two difficulty branches could be completed by a single move. In this one you'll find six difficulties: easy, normal and hard, all having A and B labels, and thirty levels each, except Normal A, which has fifty.
Third has a self-describing name too: two colors. You get two shapes, that are differently dyed, and you choose with which one you'll work, by simply tapping two times, and switching between them. This one is most interesting, but, also, most challenging. Objectives are quite complex from the start, and the switch mechanic can bring in a bit of a confusion. This one requires more planning and puzzle-solving skills. It comes in same five difficulty levels of the classic mode.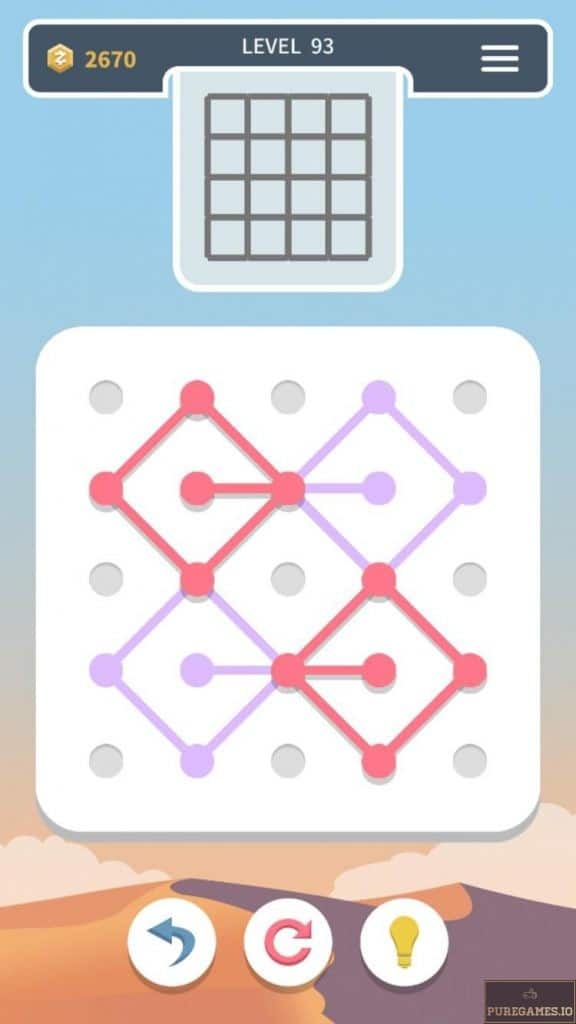 Presentation
This game, in spite of its difficulty, is so calming. You heat up your brain, but chill your nerves. That's due to the presentation of the game. Colors are vivid, but not too assailant and bright. Not having the time limit also contributes. Music helps this course the most. Cheerful and bright tone, arranged and composed to keep the player in a serene state of mind, not does only sedate you, but helps your concentration, the most valuable resource while playing this game. One thing that could frustrate and break your focus is low responsiveness from time to time, making your desired move go in the wrong way, but no big deal, just use the undo button! Even if you having trouble with harder puzzles, you can always enjoy compiling interesting shapes, no matter the objective of the level!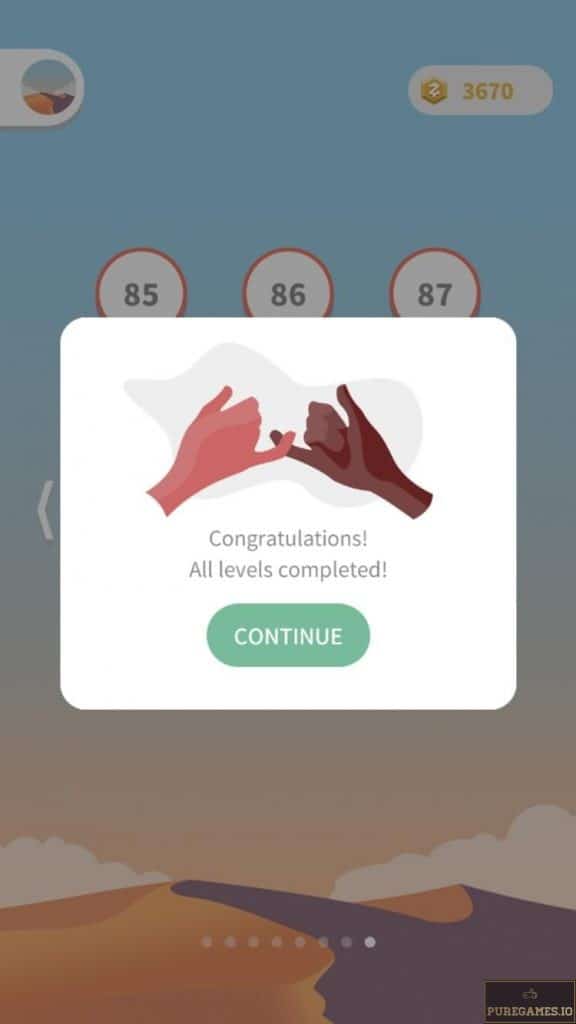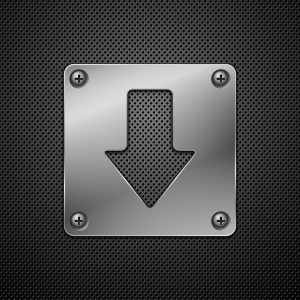 Download Weave the Line APK for Android/iOS
Select a file to download:
Download Weave the Line v2.4.0 APK