| | |
| --- | --- |
| Publisher | Bluehole PNIX |
| Platforms | Android 4.0.3 and up |
| Price | Free |
| Size | Depends on device |
| Latest Version | 3.03.1 |
If you have been wondering, are you the Mini Golf King, now you finally have the chance to find out. Challenge your friends and prove your worth!
Overview
After a few warm-up stages, in which you have a plenty of time to learn the basic controls and mechanics, you're thrown into a multiplayer match, no questions asked! Don't worry, system is quite simple. Let AI choose a fitting club for your hit. That usually depends on the position of the ball and the current terrain constitution. Then gently put your finger on the ball and decide the strength and direction of your hit by dragging it in the opposite way of the desired one. After whole ten stages of that, and more than 500 trophies won, you'll finally be the true Mini Golf King!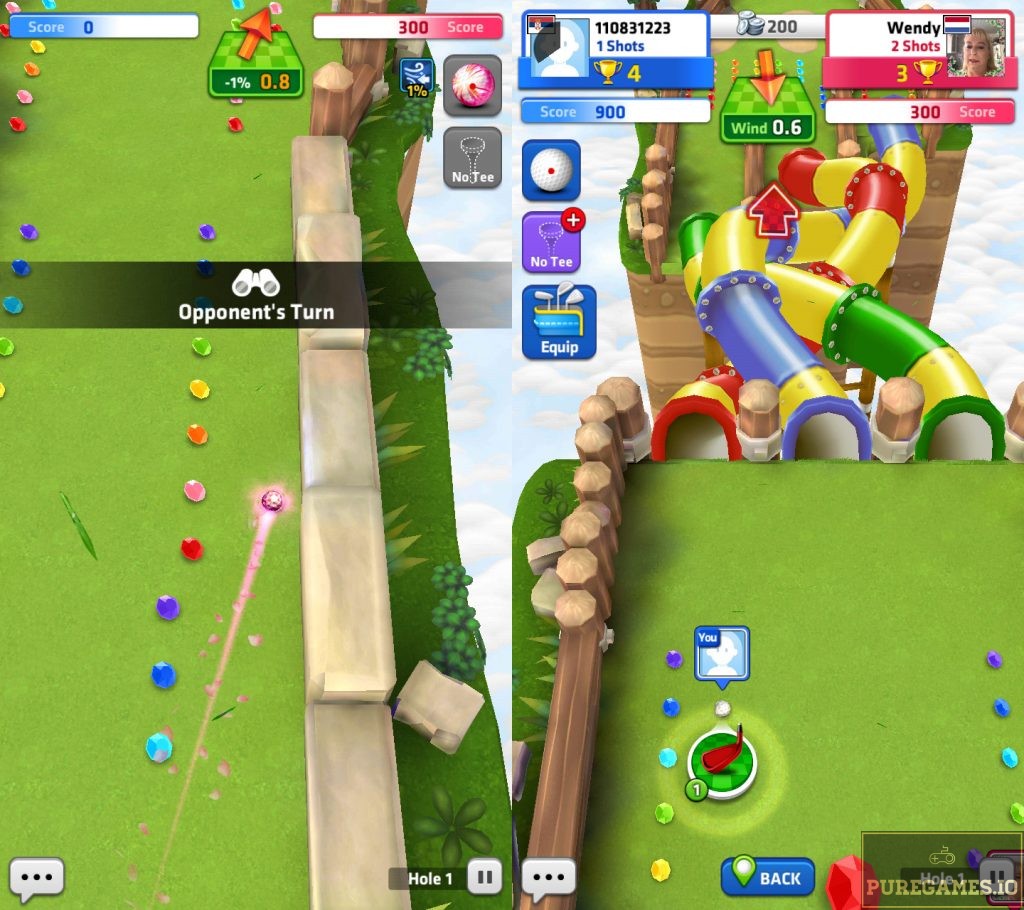 Gameplay
First details that really amaze are the presence of wind, and different golf clubs to use in a single stage. The wind effect is quite subtle, and it requires some practice and experience to get a grasp on it. The clubs, however, are chosen automatically, but it's nice to see someone in the development team cared about the realistic aspect of the game. If you happen to end in a bunker position, for example (trapped in the sand), don't panic, the game will choose the Sand Wedge club for you to get out! There are two objectives in each stage. The main one is to put the ball in the hole as soon as possible (I guess you're already familiar with that one), but the optional one is to collect diamonds, gems and various crates, in order to achieve a better score or some useful rewards. But beware, there are things you should not collect, spread around the stages. I think you'll know to avoid them, because it's usually dynamite and similar stuff.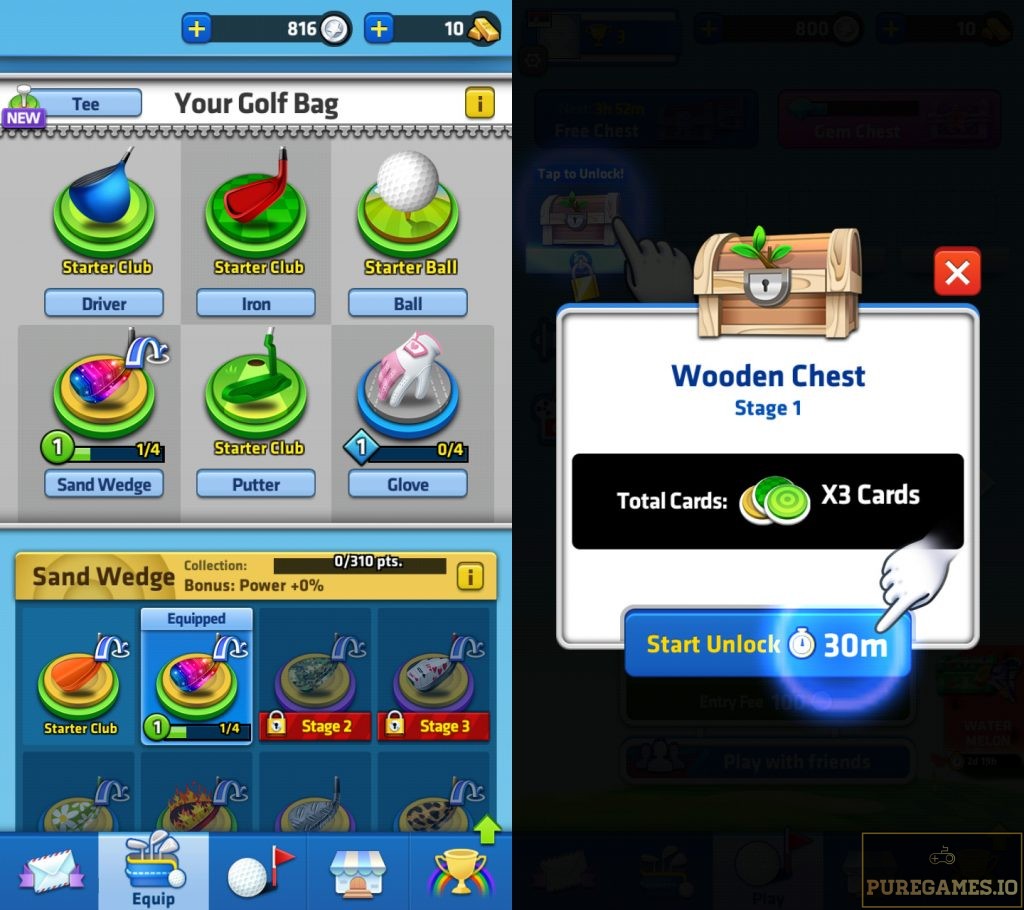 Stages
The game looks amazing. Stages are packed with environment details that don't just stand there being pretty. They serve a fine purpose in twitching the gameplay experience and difficulty. You'll happen to run into different kind of terrains, tubes, slides, ramps, pools, bridges and so on. The best thing is that most of these colorful stage additions could be your best friend or your worst nightmare. Same ramp or tube could be seen as an obstacle, or as an advantage, depending on your skills and tactics – and your goal. Will you rush towards the hole, or try and collect as much gems as possible, in order to outscore your opponent at the end, if you happen to tie in turns?
Multiplayer
It's in the name of the game, right? Well, it's well deserved if you ask me. The only way to play this one is via internet, versus another player! And it's the beauty of it. Test your tactics and skills against a real human being! They can surprise you by their moves and ideas each new match, far better than any AI! And the communication system is pretty decent. You get to choose from presets of emoticons and phrases. That saves you from clogging the screen with a lot of written text, and from some angry remarks you could receive during your move. Emoticons make it just more colorful. As you win trophies, you get to compete with better players and to unlock new, challenging and imaginative stages.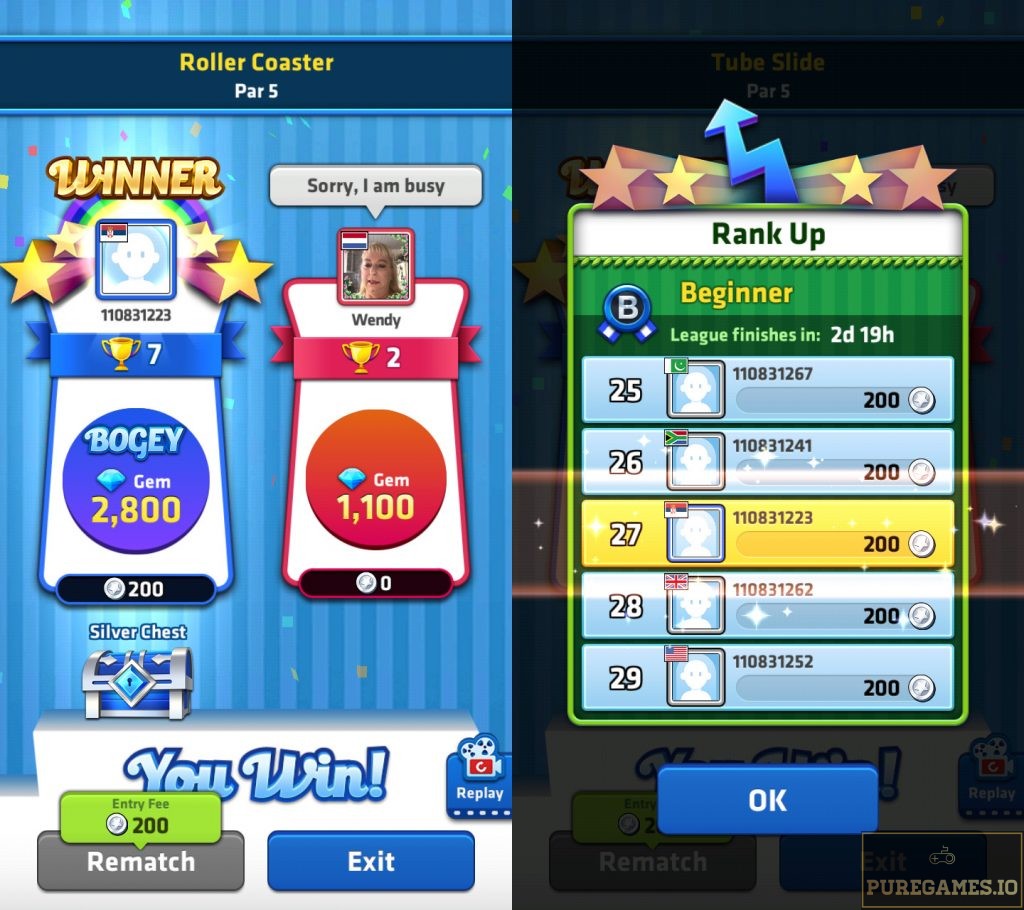 Business model
By winning matches you earn the free type of currency: silver coins. You use those to pay the entry fee for your matches. There are golden bars available as the premium currency, which you can buy for real money. You can use them to skip the waiting time of chest opening. These usually contain equipment like different gloves, clubs and tees. You can also buy all of these with golden bars. Better equipment often means better stats: strength and precision of your hits, wind and surface resistance, time for your turn, and more.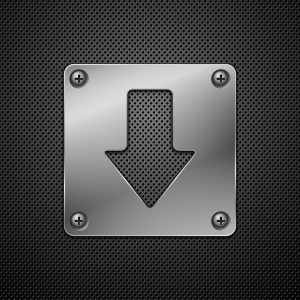 Download Mini Golf King – Multiplayer Game APK for Android/iOS
Select a file to download:
Download Mini Golf King – Multiplayer Game v3.03.1 APK