Zombie Catchers Review
Publisher
Two Men and a Dog
Platforms

Android 3.0+;

 iOS 6.0+

Price

Free

Size
100 MB
Latest Version
1.0.27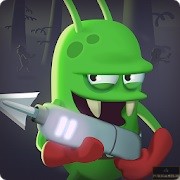 Zombie Catchers is an action adventure game with an original take on the zombie theme and zombie games. Usually it's the zombies that do all the eating, but not when A.J. and Bud are concerned. These two entrepreneurs have taken advantage of a zombie infestation to make a popular product to serve in their drive-through (Bud and A.J.'s Fresh and Squeezed) and make some profit. And what is the secret ingredient to their popular drink? It's Zombie Juice. It's a hilarious and beautiful game with simple but entertaining elements.
Zombie Catchers Gameplay
In the game, you play Bud, a green colored entrepreneur that looks like Plankton from the Sponge Bob Squarepants show. You hunt down zombies by luring them with brains and then harpooning to a balloon where your android partner, A.J., can pick them up. The controls are fairly easy. You have left and right movement buttons on the left and you have jump, fire harpoon, and drop brains on the right. Once you drop your brains make sure you leave the area as zombies run away from Bud when they see him. It's a great twist on the zombie trope, instead of running away from zombies; they actually run away from you.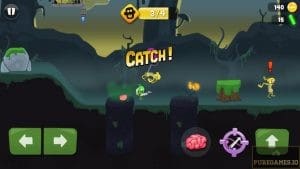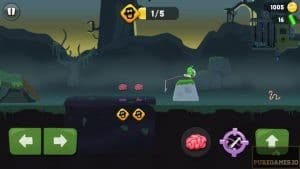 You can hold down on the harpoon button for more power, and you can take advantage of other gadgets, such as jet packs, to chase down your zombie prey. Since most zombies apparently live in swamps, so make sure to watch out for swamp critters like snakes as you hunt for z's. You can easily dispatch them by firing your harpoon. Also make sure you hit your target with each harpoon shot. It takes a second to reload the harpoon and it could give those delicious juicy zombies a chance to get away. The higher levels have harder zombies to catch, but you can keep up by upgrading your zombie-hunting gear.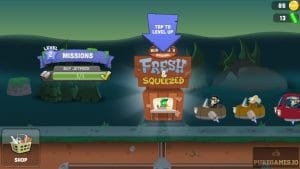 Zombie Catchers Features
Zombie Catchers is not just about the catching of the zombies, although that is the bulk of the game. It is also about running your business, A.J.'s Fresh and Squeezed, and making sure that you keep your franchise up and running. This means you have the option to upgrade your hunting gear with better weapons, and also getting new equipment for squeezing zombies in your underground lab. You also level up the store with each successful hunt.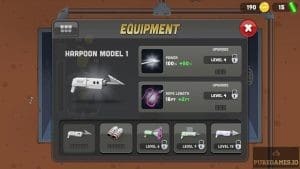 In the Shop Menu, you have options to upgrade your equipment. This means harpoon guns and rope length and speed. You can also upgrade your jet packs and get other goodies like Tesla and zombie traps. You also use plutonium sticks as the in-game currency, but you also collect coins for each sale you make at the Squeezed shop. Extras in the shop menu include skins and other accessories such as hats and eye wear for Bud.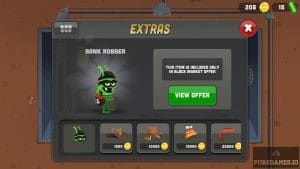 Conclusion
Zombie Catchers is one of the most beautifully rendered games for mobile gaming. The vivid colors and crisp animation is perfect for handheld gaming. It obviously does not take itself too seriously, but the funny story and hilarious and original characters are great entertainment. The game is fairly simple enough to play, but there are other elements to consider, such as the economics of running a business, and the fun of upgrading your zombie hunting equipment throughout the game.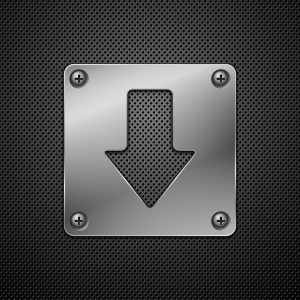 Download Zombie Catchers APK for Android/iOS
Select a file to download:
Download Zombie Catchers v1.0.27 APK