| | |
| --- | --- |
| Publisher | Electronic Arts |
| Platforms | Android 4.1 and up |
| Price | Free |
| Size | 15MB |
| Latest Version | 6.8.1 |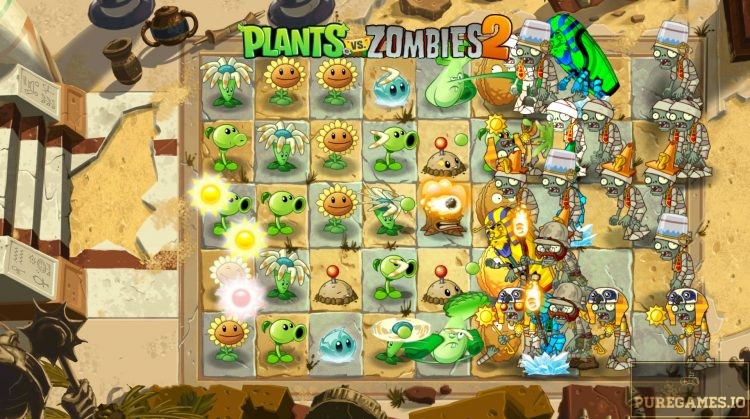 The brain-eating zombies are back! Plants Vs Zombies 2 takes you to an all new adventure with tons of great improvements and features to offer. If you download Plants Vs Zombies 2, the game takes you to 11 crazy worlds with tons of new zombies and plant species. If you enjoyed the original game, then you will you will surely love this even more. The game follows the same goal; prevent the zombies from breaking through your house by putting plants on your lawn.
Interestingly, we are no longer referring to your typical grassy lawn as the game takes you back in time and explore various worlds and dimensions. These locations include the Ancient Egypt, Pirate Seas, Old West, Lost City and even the Far Future. Generally, it is still the same Plants Vs Zombies game but in a more exciting tower defense experience. If you are an avid fan of this original game, I definitely don't see any reason why you should not download Plants Vs Zombies 2.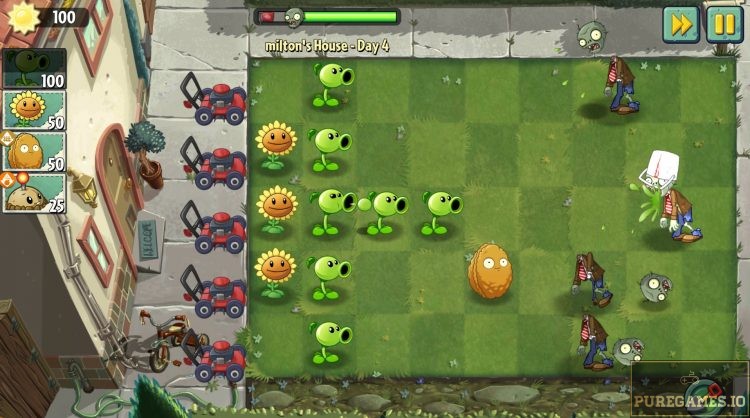 The Gameplay
If you know how to play the original Plants Vs Zombies, mastering this game will not be a big challenge. Much like its predecessors, your main objective for PvZ2 is to prevent the zombies from breaking through your defenses. As soon as the game begins, it prompts you to the game field. The zombies will start to arrive from the far right. The game gives you enough time to place the plant on whatever block you want. Each plant consumes certain amount of Sunlight which makes Sunflower an essential character on your team.
The sunlight drops automatically in certain time interval but having sunflowers on the field expedites the process of collecting sunlight. The plants will vary in terms of their ability, stamina, and damage rate and they will all attack automatically. Once a zombie steps on their lane, the plant will shoot them without the need of player's interaction. Some plants are merely used for defense (Wallnuts) and others can only be used once (Cherry bombs). The level is cleared if all the zombies were killed.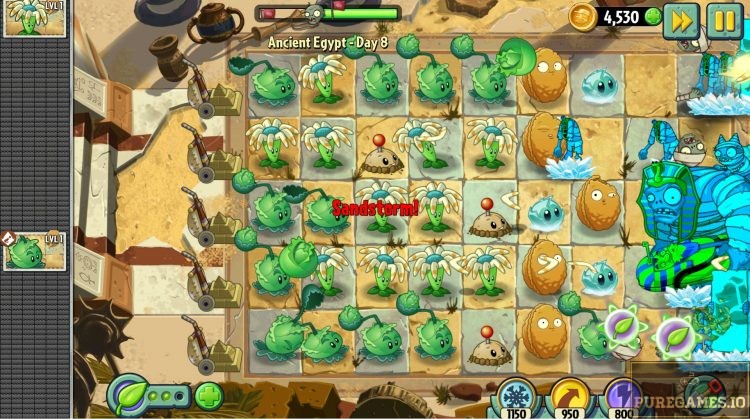 More Compelling Plot and Locations to Explore
Wonderfully, the sequel gives Crazy Dave an interesting plot which makes him a centric character of the game. Crazy Dave will be accompanied by a new friend named Penny which is apparently a Time Machine. In a mission to search for a unique and rare hot sauce, Crazy Dave and Penny will help you travel from one dimension to another. The journey begins in Ancient Egypt but as soon as you unlock more plants and levels, you will soon gain access to other maps.
Generally, there are 11 crazy locations to explore. It includes the Ancient Egypt, Pirate Seas, Wild West, Frosbite Caves, Lost City, Far Future, Dark Ages, Neon Mixtape Tour, Jurassic Marsh, Big Wave Beach, and Modern Day. Each location has different levels of difficulties. Aside from given a diverse atmosphere, each location also features different zombies. Ancient Egypt for an instance features mummy-zombies while Pirates Seas has pesky Zombie pirates.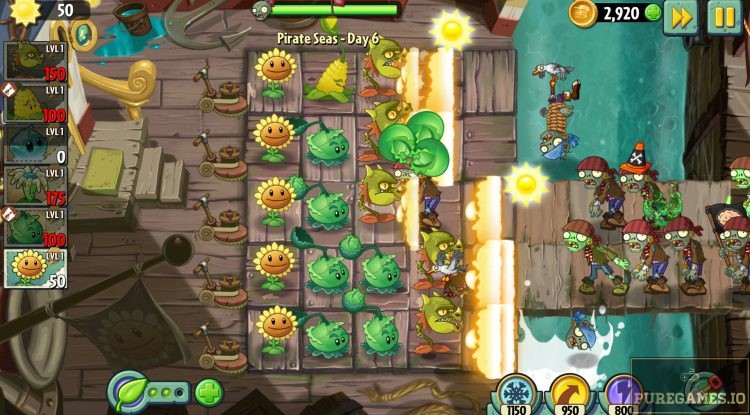 More Plant Species and BattleZ Campaign
If you download Plants Vs Zombies 2, the game greets you with an extended almanac of plants. You will soon encounter new plant species with amazing and unique abilities. Same thing goes with the zombies. If you thought Gargantuar is the strongest of them all, this game will prove you wrong. Some zombies will possess unique abilities like stealing sunlight drops and more.
Aside from the new locations, Plants Vs Zombies 2 will also feature a new campaign. BattleZ is a tournament-based campaign which allows you to compete with other players via leaderboard system. The battle requires you to have enough "gaunlets" in order to participate.
Another noteworthy feature of this game is the ability to upgrade each plant. You can now upgrade the plant to make them more efficient and to improve their specific attributes. You can also feed plants with "Plant Food" to unleash their full abilities in short period of time. The players can also use Power Ups as part of their strategy.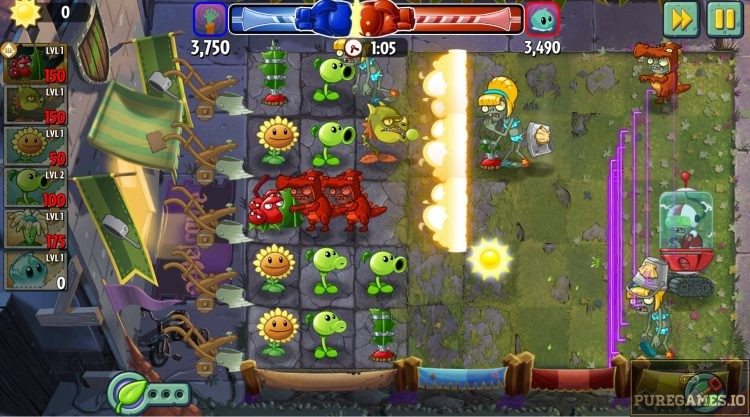 Verdict
Plants Vs Zombies 2 has so much wonderful features to offer. There are many things to explore and it has an incredible longevity and replay value. The dynamically changing environment is indeed an interesting addition which makes the game even more appealing rather than dealing with the same lawn from beginning to end. The gameplay is simple yet equally fun and addictive much like its predecessor.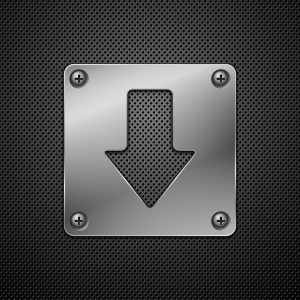 Download Plants Vs Zombies 2 APK for Android/iOS
Select a file to download:
Download Plants Vs Zombies 2 v6.8.1 XAPK
Download Plants Vs Zombies 2 v6.8.1 APK